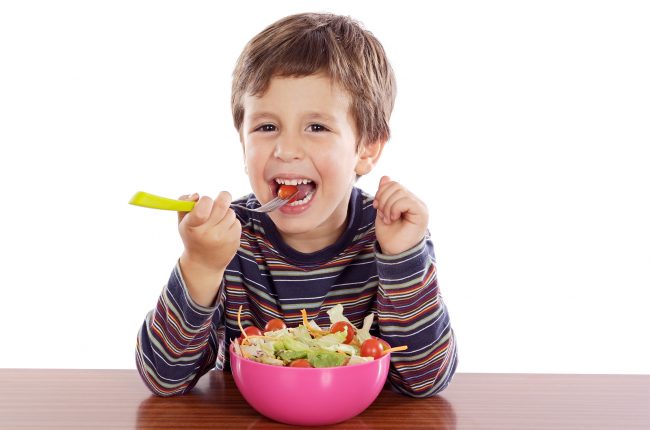 As every parent knows getting children to eat food that is healthy and nutritious is just about impossible. They seem to have the knack of identifying food that is good for them from afar and are able to form very strong opinions about what they would like to have or not to have without even having tasted the tiniest morsel. Mealtimes can end up by being extremely stressful for both mothers and children, as usual, a battle royal will erupt between them of what must be eaten or avoided. Since it can prove to be impossible to make kids see reason or the importance of nutrition, parents need to exercise a whole lot of patience and learn a few effective strategies that will enable them to get kids to cooperate. Some useful insights:
Focus On Food Color and Shape
Bright and colorful foods are naturally appealing to children of all ages. Since healthy food often tends to be pale, children do not find them attractive and are disinclined to even taste them. Mothers should also know that most of the brightly colored vegetables and fruits are in fact loaded with essential nutrients far more than the usual veggies. Carrots, beetroots, capsicum, peas, etc. can be far more attractive than cabbage and potatoes. Even if you want them to eat cauliflower and spinach, you could arrange them in interesting patterns with the more brightly-colored items so that they will not be able to focus on any individual item that they usually do not like.
Even the simple expedient of cutting food into interesting shapes can arouse the curiosity of the child and make for a happy meal. Use vegetable or cookie cutters to give interesting shapes to vegetables, fruits, cheese, eggs, and bread to liven up the action on their plates. Use mandolins to cut, dice, slice vegetables into interesting shapes they can play with and eat with interest.
Play On Their Current Interests
The interests of children keep on varying widely. It could be something to do with what they are learning at school or some cartoon or superhero character that has caught their imagination. If the child is learning about a particular country, it may help to introduce a food that is native to that nation. Spinning stories about the favorite foods of cartoon characters also can be extremely helpful in boosting the interest level of the child.
Give Food Fun Names
For those who have no experience of raising children, this can be pretty silly but giving crazy names to food and drink can tickle the imagination of children and make them more amenable to experimenting with food. While every child should be taught the proper names of fruits and vegetables, the effect of calling spinach smoothies "monster juice" or broccoli as 'baby trees" can be really amazing.
Serve Food Differently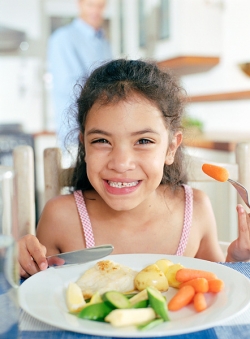 Every child has his own concept of what interesting food should look like and adults have a tough time trying to understand that. Every parent should understand that mealtimes can definitely be boring when you are served food that looks the same every day. Quite often changing the presentation can have the kids raving about the food. If fruit slices seem boring, cut the fruits into cubes and assemble them on toothpicks – if you can alternate the different colors then you can be sure of more interest. Giving them a healthy dip like a yogurt can also work wonders. Making vegetable kebabs can also create a buzz; include cherry tomatoes, grapes, pineapples and cheese cubes with the different veggies to create a taste that kids will invariably fall in love with. Miniaturizing foods can also be very effective; offer mini pizzas, muffins, sandwiches and see them being wolfed down.
Conclusion
Every parent needs to realize that children live in their own world that is ruled by imagination and flights of fancy. Adult food looks extremely boring to them. To get children to eat food that is healthy and good for them, you need to vary the way they look and find out how the food can catch their attention and interest.
Author bio: Mike Sullivan is a parenting counselor and a much-published author of articles on various aspects of effective parenting. Mike has also written extensively on how fast food joints are changing their menus to cater to children. He often quotes the example of https://www.mcdelivery.co.in/ to illustrate the effort the companies are putting into offering kid-friendly menus.