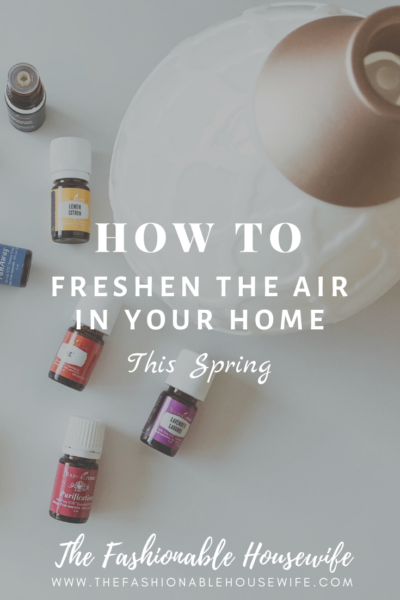 After a long winter with the windows shut against the blustering cold, pouring rain, or frigid temperatures, your home may begin to have a closed-in smell that is less than pleasant. You want your family to be healthy and staying calm, and part of that mood is having a clean home with the associated clean smell.

If your house is clean, but you still have a stale air smell because of cooking or pets, why not try some of these ideas for refreshing the rooms this spring.
1. Cleaning Solution
If you want a clean home without a hefty price tag, try some DYI cleaning solution. Add some lemon or orange peels to a spray bottle of vinegar that also has your favorite herbs. Shake the mixture up each time you use it, and as you clean your home, the herbs and citrus will infuse the air with a warm, welcoming scent.
2. Baking Soda
Items with a porous surface can absorb smells inside your home over the years. That is especially true of carpets and rugs. To take some of the odor out of the carpeted areas of your house, try sprinkling some baking soda around. You can add a few drops of essential oils to the soda before sprinkling if you have a favorite oil or scent. After letting it absorb the odors for 15-20 minutes, vacuum the room, and enjoy the fresh fragrance.
3. Diffusers
Diffusers with a few drops of essential oils can push a preferred scent throughout the whole house in a matter of minutes. If you aren't familiar with the different oils available, or the healing properties associated with each of the essential oils, check out Young Living for further information.
4. Cooking Vanilla
Vanilla is one of the most-loved scents around the world. If you want a quick way to refresh the entire house, add two or three cap-fulls of vanilla to a baking dish with a cup of water and heat in the oven for between 30 to 90 minutes. The enjoyable scent will linger for several days.
5. Tree Leaves
During the holidays, pine trees and wreaths can freshen any home with the smell of pine. You can accomplish the same thing almost any time of year with leaves and flowers. Eucalyptus is a natural air cleaner that you can find in most plant or craft shops. Don't forget roses, carnations, and lavender to scent the air all year long.
6. Baking
Nothing changes the odors inside a home like the smell of homemade bread, fresh cookies, or yummy muffins. Not only does the scent make your home welcoming, but you will have a delicious treat and a sweet-smelling home. If you don't want to cook, try scented candles that smell like sugar cookies or banana muffins!
Keeping your home smelling clean and fresh may not be easy, but it is possible if you use one or two of the ideas listed above like diffusing essential oils. Whether you are returning from a long vacation or you are ready for a spring clean, changing the smell of your home doesn't have to be a time consuming or laborious task. You can make sure your home smells fantastic in just minutes!