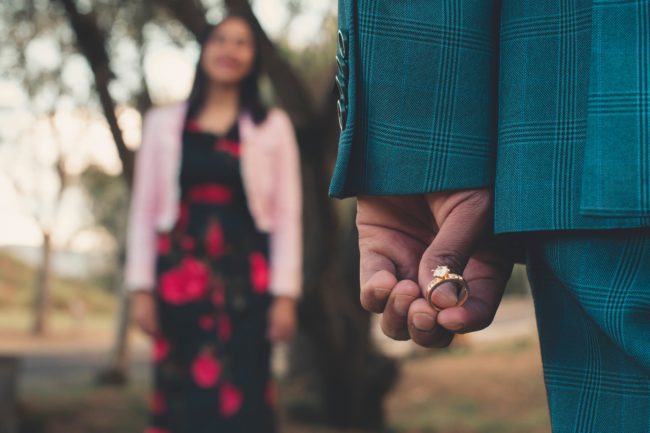 Engagement rings, while beautiful statements and markers of your romantic life, are also accessories that we wear, jewelry that we keep close to heart, and a possession that we hope to keep forevermore. For this reason, it's important to take care of it where appropriate.
This may mean having it looked at professionally from time to time. Having the ring resized, for instance, is perfectly acceptable and can help you continue to wear it with pride as you age, go up and down in weight, and when your body changes over time – as it will for all of us. In some scenarios, replacing the lost gem with loose diamonds or another fixture may be important, for more fundamental reparative work.
Keeping your engagement ring in good condition over the years means being careful, performing appropriate maintenance when you can, and just making a point of looking out for it. If you can do that, then you'll tend to keep its proper care in mind no matter the circumstance.
Let's consider that, below:
Regular Cleaning
It's important to regularly clean your ring, because sometimes dead skin, oils, and grime can build up within the inner lining. Purchasing a ring bowl you can use to store your jewelry, perhaps before a shower or before bed, can help you allow your finger to breathe a little more, too. A simple cleaning solution and cloth can be used to remove most of the dirt, although stains and damage may need more attention from a professional jeweler.
Check The Prongs
Keep a close eye on the prongs that uphold the center stone in place. If they're at all loose, then it should be able to hear a slightly audible rattle. Some jewelers will ask you to come in for a prong check annually, just to make sure it's fastened correctly. However, if your ring is set in a classic manner, such as in platinum, then this may not be necessary. Having the prong tightened slightly can be a worthwhile endeavor. In many cases, a careful visual inspection can help you see if anything is slightly out of alignment, or if any damage has occurred.
Utilize Engagement Ring Insurance
Engagement ring insurance can be a great way to ensure that the rock is protected as soon as possible. This can help you ensure the valuation is also marked properly from a valid jeweler. It's also important to make sure that the person intending to propose knows to do this, as in general, unless it's specifically recommended by the jeweler then some might not know how important this can be. Protecting the loss of the rock can help you gain the value as necessary, and protect against theft too. Some might even allow for repairs of the ring itself without costing you much in the way of maintenance fees.
With this advice, you'll be sure to care for your engagement ring over the years, as it represents your enduring relationship and the loving ties that bind you.