Recently I discovered a little company (run by 3 stylish moms who just happen to be sisters) called Do De Da that puts a cute new spin on the infant onesie/toddler t-shirt!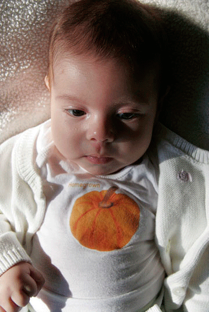 Capturing the innocence and wholesomeness of childhood with designs straight from the garden and their own kitchens, these super-soft, super-comfy shirts have a bit of a retro vibe that will warm the heart of everyone your baby meets! Two lines are available–Homebaked, with 9 different bakery-themed styles, and Homegrown, with a dozen garden-fresh choices–and each short-sleeved, 100% Organic Cotton shirt is available in sizes from 6 months to 5/6T at a price of $24.00 (not including shipping).
I ask you: with fall just around the corner, who could resist a little pumpkin like this?