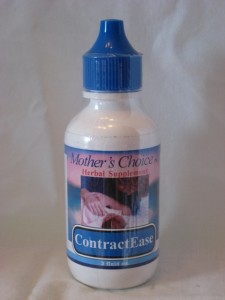 Giving birth is an amazing event, isn't it? Once baby is in our arms we tend to forget about the labor pains. However, those after pains are not so easily forgotten, especially if you have had multiple children. After pains can be as painful and sometimes more so than birth pains, as they happen each and every time baby is put to breast for the first several days after baby is born…and we all know how often a newborn nurses!
If you are like me, you shun the traditional methods doctors and midwives suggest such as Ibuprofen and TylenoI because nearly every drug filters through breast milk to some degree. These products are not always effective either. A hot water bottle or heating pad may provide temporary relief, but living in fear of nursing a new baby because of the pain involved is not the place a new mother needs to be.
I discovered Mother's Choice Contract Ease in early 2008. Contract Ease is an all natural herbal supplement that includes these ingredients: Crampbark, Wild Yam, Black Haw, Scullcap, Valerian Root, Hops, Chamomile Flowers, Fennel and Catnip. This is a product that nearly eliminates the after birth pains without putting harmful chemicals into a mother's body. Contract Ease comes in two convenient sizes – 2 oz and 8 oz bottles.
Contract Ease was formulated by Shonda Parker and produced by TriLight, Inc. It was a godsend in my life. I would recommend this product for a shower gift prior to a new mama's labor and delivery. It may be purchased at Baby, Birth and Beyond for $11.50 for the 2 oz. size. Birthing with Love has both bottles – $16.00 for the 2 oz. and $37.00 for the 8 oz size. Amazon's prices were slightly higher and they offered a 32 oz. size as well.