How many of you have iPhones? And how many of you use applications for children? I'm really curious, so don't be shy, leave us a comment. If you do use iPhone applications geared towards babies and children then this post will definitely interest you. We didn't even know that there were applications for children, but neither of Sarah nor I have an iPhone either. I think if I had one and was out and about alot that this might be something to keep a little one busy while waiting for appointments or even driving in the car as a family. But I will let all of you iPhone users decide as you look at this new iPhone application for babies…
Especially for iPhone Users
Orange Design recently released a new brand for iphones. We are privileged to introduce you to the new brand, Learnl, and its first application for the iPhone—Learnl Baby: Animals. Designed for babies 6 to 18 months, it features hand-crafted animations, charming music and beautiful color photographs.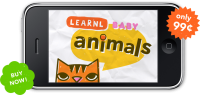 Last month, Orange Design announced the launch of Learnl Baby: Animals, the first in a series of colorful iPhone applications designed to make learning fun. Designed for children aged 6 to 18 months, Learnl Baby: Animals introduces kids to animals using engaging illustrations, photos, and sounds.
Designed with little hands in mind, Learnl Baby: Animals uses a simple, one-touch interface on iPhone and iPod touch. There are no buttons or gestures to memorize. Like turning pages in a magical picture book, each touch of the screen offers something new. First, the child sees an animated illustration of an animal while its name is said aloud. The child touches the screen, and the animal's name is shown in animated characters. A third touch reveals a photo of the real-world animal along with the sound it makes. Touch by touch, children will learn 20 animals in all.
Unlike most other iPhone applications for kids, Learnl Baby: Animals is specifically designed to be easy enough for even a 6-month old child to use, but sophisticated enough to continue to entertain as babies grow. But it's not just the simple interface that sets Learnl Baby: Animals apart from other iPhone baby apps. In every detail, Learnl Baby: Animals is designed to delight young children, whether it's the hand-crafted animations, the charming music, or the beautiful color photographs of each animal. Whether at the zoo or on the small screen, babies find animals captivating.

Orange Design President Fred Sharples says,
Once my son was born, I downloaded several iPhone applications for him, but found them all too complex for his age. Babies see us using our iPhones, and they want to use them too. It turns out the iPhone is perfect as a learning tool: if it's a simple enough game, even very young children can quickly learn how to interact with it. Plus, its constant availability gives parents a needed break during long car rides or delays at the airport.
Learnl Baby: Animals is now available in the iTunes App Store for 99 cents. Learn more at http://www.learnl.net/baby/animals
About Learnl
Learnl games reflect the belief that we all learn best when we're having fun. Combining playfulness with education, each Learnl title is designed to be intuitive, approachable, and age-appropriate. Learnl encourages users to touch, identify, reason, create, and smile. For more information, visit  http://www.learnl.net
About Orange Design
Founded in 1999 and based in San Francisco, California, Orange Design offers broad expertise in interactive technology, from educational games to web and interface design. Orange's work expresses clarity and engagement, whether the context is a game for the Leapster handheld learning system, an interactive election map for CNN.com, or original iPhone games. For more information, visit http://www.orangedesign.com