I did receive these items free of charge and am not being compensated by Bonnie Marcus for my review of their products. I simply share my own observations and thoughts from personal use of the samples provided to me.
I was surprised last week when I received a package containing samples of products from the Bonnie Marcus Collection. Yes, I had responded to do gift guide feature, but didn't know they had sent the product out. Wow, am I impressed! I love anything to do with writing paper, probably because I am a writer. 🙂 These would make great stocking stuffers, Mother's day, birthday gifts and "just because" gifts!
Notes on the Go $6.00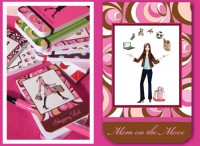 These are stylish little notebooks approximately 4″x 3″ that feature cute illustrations of fashionable moms with her l-o-n-g shopping list and packages all around her (Shopping List notebook), another of a mom pushing a stroller (Mom Notes notebook) and the last one is of a mom juggling many different items – laptop, cell phone, teddy bear, soccer ball and groceries (Mom on the Move notebook). They have sturdy covers and an elastic band that keeps the notebook closed. There are 80 sheets of lined paper. The binding is perfect binding, meaning there is no coil, no wires to snag on clothing or hurt someone with.
P.S. The elastic on my Moms on the Move notebook broke. I think little fingers got their hands on it behind my back. I am a little disappointed. It was such a great little feature. Just something to watch with extended or over-use, I guess. I did come up with a solution and taped it back on because I really want to make use of the elastic closure.
Bonbon Notes $7.50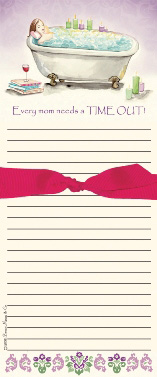 The items featured here are pretty lined list pads that come packaged in plastic with a pink bow – comes in handy just in case you don't have time to wrap it! There is a "pretty list" with this printed on the top, "Mom always has so much to do, a pretty list will help her get through!". Then there is one with a picture of a mom in the bath tub with the heading, "Every mom needs a TIME OUT!". The last one is for Date Nights with pertinent information for the babysitter – things like the parent's cell phone, the event or location they'll be at, the address, phone and what time they should be home. There is also a place for bedtime info, special instructions, home address and phone. Each of these pads come with a magnet on the back so they can be easily placed on the refrigerator. I love using pads like these. They are so much easier to keep track of than a scrap piece of paper. These are of much higher quality than the ones the Dollar Store has or even some of the ones I have purchased at Walmart where they come apart from the magnet or the paper tears off too easily and ends up on the floor.
They have many more notebooks that are geared towards brides, weddings, grandmothers, grandfathers, girlfriends, teachers, graduates, and expectant moms.
The other great thing is that these are gifts that "give back", as a portion of the proceeds from the sale of any of the Bonnie Marcus Collection will be donated to organizations that support breast cancer research and eduction.
Great gifts for under $10.00 that I absolutely love! Talk about fashionable paper…these are stylin'.
About Bonnie Marcus
Bonnie Marcus launched the fashionable stationary company, the Bonnie Marcus Collection "where fashion meets paper" in 2002, while pregnant with her first child. Whereas most moms-to-to be spend their last trimester relaxing or poring through endless piles of baby books, Bonnie ambitiously started her own company!
As a former New York City wedding planner and the Special Events Coordinator at the prestigious 92nd Street Y in Manhattan, Bonnie was familiar with the wedding industry and always thought that something was "lacking" in the invitation market. For years she searched for fresh, fashionable designs that reflected the chic metropolitan lifestyle of her clients. Unable to find anything appropriate, Bonnie began custom designing stylish invitations from her kitchen table.
Shortly after the launch, an editor from Modern Bride received an invitation and called Bonnie to say "your designs are a reason for a girl to want to get married!" Bonnie's chic new holiday designs were featured in the New York Magazine as a "Best Bet" and the excitement has not stopped since!