When I opened an email this week, it was interesting to learn of natural art supplies for kids at Clementine Art . To be honest we have used the same ol' same ol' for years because they are products we love and can trust, without any thought given to what ingredients are in these favorite products. As more and more consumers become more aware of how things are being made it is creating a new market for products like Clementine Art, which has three products – All Natural Markers, Paint and Modeling Dough.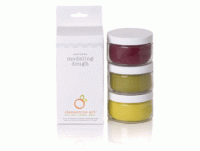 All Natural Modeling Dough $8.99
Editor's Note: Each of the products listed do contain a list of ingredients in their product descriptions. I really appreciate the full disclosure and not having to hunt for that info. The markers do contain propylene glycol. Since other marker products do not include their ingredients, I never really thought much about what they might contain. Propylene glycol has had a history of being controversial in certain products claiming to be all natural because I remember listening to an audio recording discussing the potentially harmful ingredients in shampoos etc. and propylene glycol was one of them even though it is an "organic compound".
As with anything, we need to be careful when looking at all natural products. The popular organic brand Tom's of Maine lists that propylene glycol is a natural gas from the earth and can be found in products made by Tom's of Maine. You'd be surprised at what other products contain this ingredient! There is another article listed below that seems to give a good representation of this topic as well. All this to just say to do your research and come to your own conclusions based on you findings.
More Resources:
http://www.naturalnews.com/023138_propylene_glycol_food_health.html
http://clementineboulder.blogspot.com/