You have to admit that we all come in different sizes and packages, don't we? Whether we are short, tall, thin or matronly, our body sizes differ as much as our likes, dislikes and personalities do. We received the following information from OneStopPlus.com recently and wanted to share it with you:
Well-Known Retailers are Joining the Plus-Sized Bandwagon

According to recent statistics:
* 67% of all Americans are overweight
* 31% of all Americans are clinically obese
* 62% of all American women (18 or older) wear size 12 or higher
Try to shop at a major store ? They have all the size 4 and size 8 you want, but don't hold your breath to find a 12 or 14. Even worse, if you can find a "plus size" (don't you just love euphemisms?), it often looks like a plus size. Why can't a larger woman be allowed to dress fashionably, or even sexy? In recent years, plus size models, fashion shows, and catalogues have begun to appear, and each time, the fashion media makes a fuss.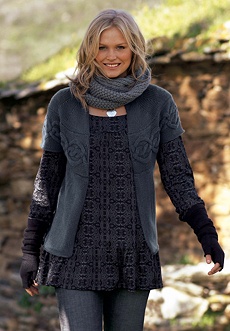 OneStopPlus.com has long recognized the plus-sized women's desire for fashionable clothes. Always expanding with its newly launched European brands Ellos and Taillissime, this first and only webmall for everything plus-size, has set the tone for a chic and fashionable selections. Now, other well-known retailers like Forever 21 are starting to identify and cater to this rising market.
With over 20+ years of experience in the fashion and publishing industries, Nancy Nadler LeWinter, a plus-size fashion expert from OneStopPlus.com, can offer insight on how the expansion of the plus-size retailers affect the overall industry and women's perspectives on size.
"Fashion is fashion no matter what your size. The secret to looking great at any size is to play up what you like about your body and to balance your clothing. The plus size market is finally receiving the recognition it deserves.""