We receive word today that Brad and Angelina's 19 month old twins were spotted in Venice with Little Giraffe Blankies! Aren't they cute? If you remember, we posted an editorial about Little Giraffe Blankies last week and we mentioned that this is a product that Celebrity Moms and Celebrity Babies love!
Little Giraffe, a high-end baby line that promises to provide consumers with luxurious, exclusive, and hassle-free children's apparel and accessories.

Sold in stores and boutiques such as Barney's, Nordstorm, Layla Grayce, and Petite Tresor, Little Giraffe also has large celebrity mom fan base including Jennifer Garner, Nicole Richie, Angelina Jolie, Katie Holmes, Jessica Alba, Halle Berry, Gwen Stefani, and Tori Spelling who all spoil and comfort their little ones with Little Giraffe's incredibly soft, chenille products. Soon-to-be celebrity mom Rebecca Gayheart will be welcoming home her baby girl in a Little Giraffe blanket.
Well, here's more proof of that with these two new photos of Bragelina's babies: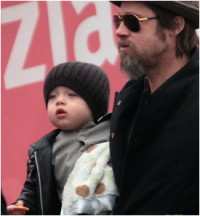 Knox is carrying is carrying the new satin trim Luxe blanky that is available at Nordstrom for $42.
Doesn't it make you want to try these cozy looking blankets? Leave a comment if you have tried them, I'd love to hear your opinions because we'll be welcoming a new little one into our home in August. 😉