Red Market Salon Stylist, David Cotteblanche, who is in the business of turning every day hair into hot Hollywood styles has some tips for us on how to get Hollywood hair.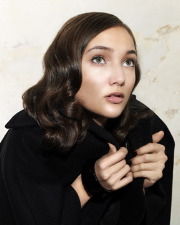 3 Quick Tips on How to Get Hollywood Hair:
1.) Take a 1.5 inch curling iron, grab large sections, wrap around outside of barrel away from your face. Add hair spray, flip your head and you are done!
2.) High twisted bun. Flip your head, create a twisted high pony tail, right about your crown. Come back up, twist your hair into a bun. Don't make it slicked, it should be lose, but it is sexy to show off your neck. Spray hair spray and secure with regular size bobby pins.
3.) A slicked back pony tail is always an easy celebrity look. Flat iron your ends and smooth back. Have some hair gel, brush hair back slick, secure with a hair tie. Rub hair gel into your hands like lotion and then carefully put on your head securing any flyaways for a slick chic look.
Trick: You can also put a little gel on the ends of your pony tail.
About Red Market:
Red Market Salon is the go-to late hair salon in New York City for celebrities. In January they obtained a coveted spot in the Meat Packing District of New York City, which is known for its restaurants and designer stores. Red Market Salon was created by two Parisian stylists David Cotteblanche and Reynald Recard, who always dreamed of opening a salon. The Meat Packing District was the perfect place for them to settle in their fifth year of business, as its cobblestone streets remind them of a European spa. In February, they opened an additional salon in chic Bal Harbor district in Miami, Florida.