Fashionable Media Review Policy: The featured product for this review was provided to me, at no cost, by the manufacturer or representing PR agency for the sole purpose of product testing. Opinions expressed are my own and are not influenced by monetary compensation.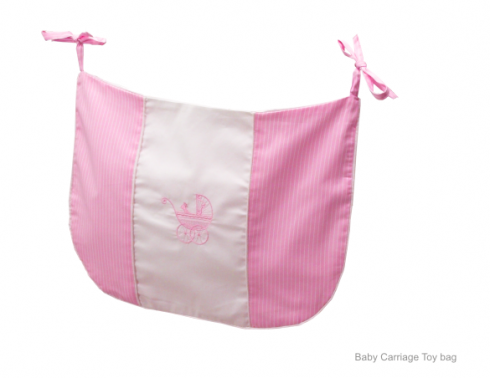 This is a cute toy bag from Angel Baby Bedding. It comes as an optional piece to the Baby Carriage set. It is 16.6″ x 11.8″ and is on sale for $36.00. It is made out of soft Egyptian cotton, which is known for its durability and is machine washable.
To be honest, I have not had a chance to use it to it's fullest potential because we do not have a crib set up and since it is winter still we haven't been using our stroller much either. I haven't decided if I would give it to a friend who just had a baby girl or keep to use on our stroller. It simply ties on and will hold a small diaper bag full of toys and books. It would be handy for short outings or walks when a full diaper bag isn't necessary.
This toy bag would accessorize a baby's nursery, if it was tied to the crib rails to hold things you didn't want baby to sleep with. Or as I stated it could be tied to the back of a stroller or even a rocking chair should someone choose that as a place to hang it. I was thinking of a convenient place to store books and toys for a toddler while nursing a baby. Depending upon the rocking chair, it might not be the most practical. Just a thought off the top of my head here as the night draws to a close at my house and I finish my posts for the evening.
For more information and pricing on bedding sets, please visit, www.ababybedding.com