Fashionable Media Review Policy: The featured product for this review was provided to me, at no cost, by the manufacturer or representing PR agency for the sole purpose of product testing. Opinions expressed are my own and are not influenced by monetary compensation.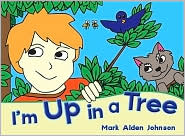 What is childhood is complete without the experience of climbing trees? Boys and girls alike seem to enjoy finding a good tree to climb. There is always the risk that they will get stuck up in a tree, but it seems that children are quite willing to take the risk just for the fun of the activity!
I'm Up in a Tree is a cute story about a young boy who has fun climbing a tree, but runs into a little situation he's not sure what to do about. He gets stuck! His dilemma is how to get down. Some furry or feathered friends offer him solutions that are right for them, but not the correct solution for him as a little boy.
Our children enjoyed the lyrical rhyming style Mark Alden Johnson used to write this book. They were eager to turn the pages and to see how the boy would get down.
Mark Alden Johnson recognizes that children face choices every day, "I think there is a misconception that peer pressure is reserved for teens dealing with drugs and alcohol, but we shouldn't overlook the younger children. They too face bad influences and if we teach them how to make good choices at a young age, they are more likely to continue doing so as teens."
Mr. Johnson hopes the story will teach kids that others will sometimes tell them to do things that are not always in their best interest and they will learn how to make their own choices or wait for an adult to consult with.
I'm Up in a Tree is available for purchase at Amazon and other major bookstores for about $14.95 (hardcover).