This is a Sponsored Post written by me on behalf of Alvin and the Chipmunks. All opinions are 100% mine.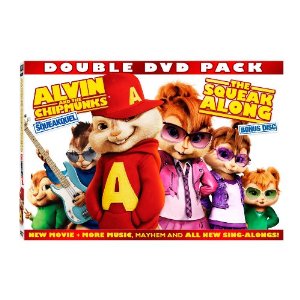 You know, it was interesting when I came across the movie "Alvin and the Chipmunks: The Squeakquel", which is now available on DVD, Blu-ray and Digital Download! I grew up watching Alvin and his pals with parents and sisters. My Dad really liked all of those old characters. Now, as a parent myself, it's kind of fun to hear the children laugh at the antics of these favorite characters. Makes me wonder if that isn't why my Dad didn't all call us to gather around when one of his favorites was on TV!
I even visited http://www.munkyourself.com and 'munked' myself! We have come across more and more online activities like this during the winter and our children really like doing them. It's like computerized paper dolls.
We have not actually seen "The Squeakquel" but have seen the trailer. In it Alvin, Simon, and Theodore try to win a battle of the bands to help save their school's music program. (See the trailer embedded below). We also found out that there is a Double DVD Pack that includes "The Squeak Along" Bonus Disc, with more music, mayhem and all-new singalongs! It sounds like it is jam packed full of fun – all for just the price of one! Not bad, eh? If you are an "oldies" fan, then this seems like the perfect time to add this family friendly film to your home collection.
Click here to buy it now Or visit www.foxfamilyflicks.com for More Munk Mayhem!