Fashionable Media Review Policy: The featured product for this review was provided to me, at no cost, by the manufacturer or representing PR agency for the sole purpose of product testing. Opinions expressed are my own and are not influenced by monetary compensation.
Yesterday I wrote about Dr. Sharp's products and their benefits in our Giveaway post. Today I am going to share with you my family's experience in trying Dr. Sharp's fluoride toothpaste and mouthwash.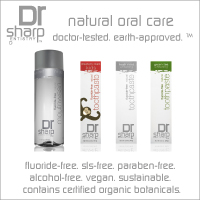 Over the years, as we have been changing the way we eat and the personal products we use, we have tried many different toothpastes. Some we have liked and some we have not. So, we were pleasantly surprised at the taste of Dr. Sharp's toothpaste.
The children have loved the strawberry flavored kid's toothpaste. As most of you know, we have seven children to give it a passing or failing grade and this tube of toothpaste, with the cute little monkey, passed with flying colors according to our crew. They like is so much that they have even asked if we could use it from now on. That says a lot.
My husband and I have really liked the mint toothpaste. I think I like the mint better than the green tea, but both are comparable to brand name toothpastes. Yes, I know that is a big claim, but seriously that was my initial thought, "Wow, this could be a brand name toothpaste."
My oldest daughter (13 years old) has been the only one to have a teeth whitening experience in the two weeks that we have been using Dr. Sharp. She's been using the green tea along with me. At first, I didn't think much of her claim until the other day when she got right in my face and said, "See mom, they are whiter aren't they?" I had to agree. I am not sure why her teeth are whiter, but she's a pleased little camper!
Only my oldest and I have been using the mouthwash, which is mint flavored. She likes it. It isn't that I don't like it per se because I will use it. Nor does it curl my stomach or anything, it just tastes different and isn't as minty flavored as the toothpaste. At least in my humble opinion.
All in all, our family really likes Dr. Sharp's organic, fluoride free toothpaste and mouthwash. The eco-friendly monkey tote is an added bonus and very cute too.
For more information on Dr. Sharp products, please visit www.drfluoridefree.com