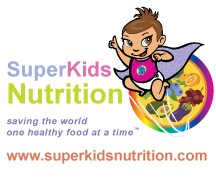 SuperKids Nutrition is a website full of a lot of free resources to educate parents, teachers and children about healthy eating and living a healthy lifestyle. From articles to kid's activities, which includes a Super Crew (R) of kid's characters who eat a variety of healthy foods and get "powers" from doing so. These characters have developed into a collection of children's books. They sound and look really interesting.
SuperKids Nutrition, Inc. was founded in August 2006 by Melissa Halas-Liang, MA, RD, CDE to save the world one healthy food at a time (TM). The SuperKids Nutrition team also represents a divers, nationally recognized group of Registered Dietitians and nutrition professionals who specialize in childhood, school and family nutrition.
Here are just a sampling of the categories www.SuperKidsNutrition.com has to offer:
Pregnancy & Breastfeeding – Articles on for expectant moms and those who are breastfeeding.
Fun Kid's Stuff – Includes nutrition for kids, coloring pages and a variety of other activities and resources.
Super Foods – All about the super foods we need to eat to keep our bodies healthy and strong.
Nutrition Experts – Get advice from Nutrition Experts.
Follow SuperKids Nutrition on Twitter http://www.twitter.com/FitNutrition
Visit SuperKids Nutrition on Facebook