Prenatal vitamins are considered a must during pregnancy by most medical professionals – at least it is highly recommended. The thing is many women have a hard time finding one that is "right" for them. If you are like me, you've probably tried vitamins that caused additional constipation and nausea on top of what you were already experiencing in pregnancy. It is for that reason I have been horrible in taking a prenatal vitamin throughout each of my pregnancies. I think my first child was the only one I took a prenatal vitamin for the whole nine months! Then I came across these…
Bebe-O Vitamins are a new prenatal vitamin that are all natural and registered by the Vegan Society. You don't have to be a vegetarian to appreciate a product that contains no GMO's, no Allergens, no artificial colors or flavors, no sweeteners and no petrochemicals. Bebe-O uses 100% vegan ingredients and pure whole food nutrients made from plant based whole foods. These vitamins are a complete supplement for pregnancy.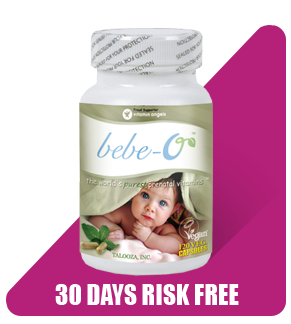 "Other" Ingredients list after the complete supplement list: Vegetable Capsule, Rice Flour, and Magnesium Stearate.
These vitamins are not cheap by any means, costing about $35.00-$40.00 for a 120 capsule bottle and an expectant mama can expect to take 4 capsules each day. (See FAQ). But I remember paying close to that amount on the prenatal vitamins that my doctor prescribed, that's when a $10 co-pay was very nice!
The great thing about Bebe-O is they come with a 30-day Money Back Guarantee, so if you are not completely satisfied with them you can get your money back.