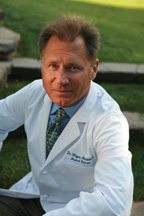 Summer is upon us and with days of warmth and perfect weather comes the opportunity to get outside more and take that first step towards achieving optimal health. By implementing just a few simple practices, we can work towards living an overall healthier existence. Dr. Wayne Andersen founder of Take Shape for Life has provided the tips below:
For Take Shape For Life, "health" and more importantly, Optimal Health, extends far beyond common associations to include physical, mental, and even financial health.
* Stay fit on vacation by signing up for a walking trip, such as those offered by the Smithsonian Institution, or entering a walking running event for charity in a fun location. What better way to keep yourself healthy and do something great for others in need!
* While exercise comprises only a small part of our daily activity (if it's done at all), its ability to build muscle can help increase your calorie-burning potential.
* Help ward off skin cancer by eating a diet high in omega-3, polyphenols (such as green tea), and carotenoids (like beta-carotene), all of which have been shown to prevent melanoma. Of course, remember to wear your sunscreen too! (Editor's Note: Just remember to consult our post about the best sunscreens.)

* Keep healthy snacks in your bag when you are out, nutrition bars like Medifast Strawberry Crunch bars are filling and low calorie.
* Put your mind to rest before bed by making a to-do list of tasks and priorities for the next day. You'll go to sleep confident
that you won't forget something important once your busy day gets going (or wake up in the night worry about it). Just be sure to make up your list early enough in the evening so you're not thinking about tomorrow's concerns right before bed.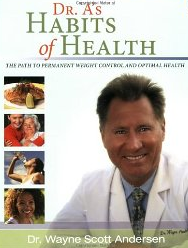 Dr. Andersen also has a new book available called, Dr. A's Habits of Health (The Path to Permanent Weight Control and Optimal Health)
.

About Dr. Andersen (Click this red link for complete bio, as this is just snippets of it.)
Dr. Wayne Andersen's passion for life and fascination with medicine began at an early age. In high school, living in Japan, he observed the effect that the low-fat Asian diet had on creating much lower levels of obesity, cancer, and heart disease, than in Western cultures. He also recognized how important family, life-long friends, and a life of meaning and purpose was to these people in grounding their health and longevity.
Dr. Andersen is currently Medical Director of Medifast, Inc., an innovative leader in the production, distribution and sale of weight management and health management products marketed under the brand name Medifast. Involved with Johns Hopkins in collaborating studies to show the efficacy of meal replacements, Dr. Andersen's goal is to provide simple, convenient means for people to lose weight and maintain a healthy lifestyle.
As the chief architect of Take Shape for Life, Dr. Andersen has built an integrated support system that helps people make the necessary changes in their lifestyles to create optimal health. This Take Shape for Life physician-led health network is gathering tremendous momentum.
Dr. Andersen currently lives on the Chesapeake Bay in Annapolis, Maryland, with his wife Lori, a Registered Nurse who provides nursing support for Take Shape for Life, and their two children, Savannah and Erica.