Gotta love this: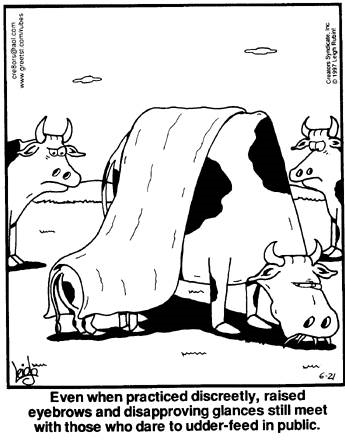 I am all for breastfeeding in public, although, I am more of a discreet nursing advocate. But this comic cracks me up because it is so absurd to think of having an animal cover up while they are nursing their offspring.
This has been a huge controversial issue that has even had media in regards to women breastfeeding on airplanes, in restaurants and other public places. The breast has become such a sexualized body part that their other function, nourishing a child, seems to have been forgotten.
While it is my desire to protect the eyes of young boys and men who struggle with where their eyes roam, I also believe that a mother has the right to breastfeed her child where ever. I don't think that women should have to hole themselves up in a bathroom stall – how gross, especially a public bathroom – or some other dungeon to feed her nursing child. Nursing a child is a natural bodily function and those that have a problem with it need to get over it.
Related Articles:
Celebrity Slam –
Kim Kardashian Slams Public Breastfeeding – http://www.nydailynews.com/gossip/2010/06/21/2010-06-21_kim_kardashian_slams_public_breast_feeding_as_sister_kourtney_does_it_on_tv.html
and http://www.usmagazine.com/momsbabies/news/kim-kardashian-slams-woman-for-breastfeeding-in-public-1970241
Law & Public Breastfeeding – http://www.007b.com/breastfeeding_public.php
Breastfeeding Laws – http://www.ncsl.org/IssuesResearch/Health/BreastfeedingLaws/tabid/14389/Default.aspx
At a Tulsa Water Park this week – http://www.ktul.com/news/stories/0610/747710.html – My husband wondered what the difference was between a bikini clad woman at a water park and a woman possibly showing a bit of breast while nursing???
http://www.myfoxtwincities.com/dpp/news/nurse-in-for-breastfeeding-in-public-april-11-2010