What do these celebrities have in common – Madonna, Miley Cyrus, Gwen Stefani, Fergie, Kristen Steware and Drew Barrymore? They all have favorite stree chic footwear from Saks Fifth Avenue! Take a peek into some Saks and celebrity shoe fashion news…
Madonna, Gwen Stefani and Drew Barrymore were among the first to receive the new UES footwear collection for Fall since Seth Campbell's collaboration with footwear king, Steve Madden. Now you can fill their shoes thanks to an exclusive pre-sale launching TODAY on Saks.com featuring the black leather Nise sneaker seen below! Soon to follow will be the black velvet Barrow, black leather Chuck Buckle Wedge, black leather Park, black snakeskin Chuck Buckle and the pony hair Forsyth, which will all be made available on Saks.com on August 2nd.
The highly anticipated Fall 2010 collection – which comes after year-long creative hiatus from the Manhattan-based designer, once again re-defines casual footwear, proving that sneakers and luxury need not be mutually exclusive. Campbell's unprecedented aesthetic- honed over a lifetime of Upper East Side living and downtown parlaying– is now backed by the resources and production power of footwear giant, Steve Madden, and the result is nothing short of stellar. Rabbit fur, pony hair, snakeskin and velvet are just several of the materials that speckle the Fall 2010 line. Chain-link laces and authentic stud-work reaffirm the line's "shoewelry" status that first made it famous, while new elements – like the rabbit fur-lined combat boots – successfully breathe new life into the brand.
Available Today on Saks.com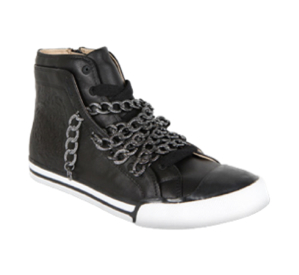 Coming August 2nd (which is less than a week away!) to Saks.com….