Fashionable Media Review Policy: The featured product for this review was provided to me, at no cost, by the manufacturer or representing PR agency for the sole purpose of product testing. Opinions expressed are my own and are not influenced by monetary compensation.
What is a Winkee?
What is a Winkee you might be asking? The packaging of this product says a Winkee is:
~ An attractive, lightweight bra accessory, that solves the problem of plunging necklines.
~ Easily attached to your bra in 3 snaps.
~ An affordable way to maximize your outfit, without compromising its design.
~ A whisper of coverage, or a punch of color.
~ A perfect traveling companion – so compact it fits in your purse!
~ Your Bosom's Buddy. 😉
ABC video feature of beauty products that fit into a "lady-like" handbag, including the Winkee (at about the 4 minute mark):
More videos may be viewed on the company's press page at http://www.thewinkee.com/winkee-press-and-links.html
My Review
The Winkee really is the fashion solution some of us shouldn't live without, especially those of us concerned about how much cleavage we are displaying. My older daughter and I both tried out the Winkee. We have the white one like the black one featured in the picture below. It really is lightweight and comfortable. I barely noticed I was wearing it. It is incredibly soft being made from 95% rayon and 5% spandex. The great thing about the Winkee is that you don't need to order a different sizes, the single solitary design of one Winkee fits women of different sizes. Take my daughter and I as an example. My daughter is a developing teen with a smaller cup size and I am a grown woman who has had multiple pregnancies and am currently pregnant, but we were both able to wear the same Winkee.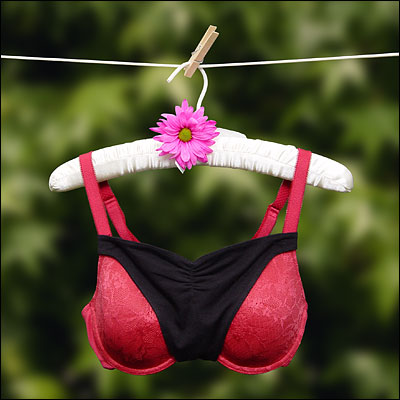 My daughter found the Winkee comfortable as well, but what she noticed was that if she did not situate the Winkee high enough on her bra then it wouldn't necessarily give her the coverage she desired. Nor did it give her much coverage if she bent over.
The Winkee is easy to put on as there are no snaps, hooks, Velcro or buttons. The Winkee is attached with Winkeedots, which are little clear sticky dots. I used the same dots that my daughter did and the Winkee didn't feel as secure as I would have liked it to, so perhaps I should have used new dots. I was being frugal though because the Winkee only comes with 6-12 dots and I cannot seem to find ours, as everything is in the pretty little pouch except the Winkeedots! Hmm….gotta ask my daughter about that…
Thankfully the Winkee is so small that it can be carried easily in a purse and hand washed very easily as well. It is recommended that it be dried flat.
While I love the concept, I am still not sure that it is the cleavage solution for me.
More information about the Winkee may be found at www.TheWinkee.com
http://www.thewinkee.com/winkee-press-and-links.html