Tom & Drew is Proud to Announce the Launch of the Spring/Summer 2011 collection : A Clothing Line That Lets Boys Be Boys…In Style. They were just in New York this past weekend at Playtime. This boys collection is sweet and fun!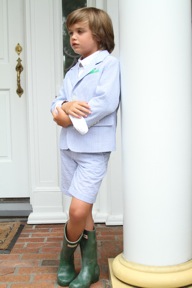 The ducklings are hatching, the bass are biting and the sharks are circling; it's spring/summer time! Tom & Drew's SS11 collection took inspiration from childhood memories spent on Cape Cod. You will find attire that is appropriate for every occasion; from lemonade stand sales to beach bonfires to summer camp swimming lessons to evenings spent with parents at the local Yacht Club.
For the SS11 collection, there will be three deliveries, each taking inspiration from different animals; ducks, striped bass and sharks.
Tom & Drew is excited to be one of the first children's wear companies to introduce Japanese selvedge denim to the market. T&D's denim is of the highest possible quality and has been imported from Osaka, Japan. The selvedge denim paired with appliqué pima cotton t-shirts, "slubby" jersey reversible hoodies and light weight "space dyed" knit sweaters make for perfect summer outfits.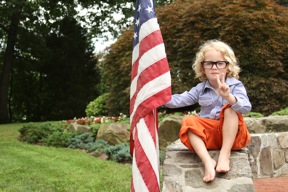 Another notable category in the SS11 collection are the color changing t-shirts. The graphics of these incredibly soft shirts change color when the wearer comes in contact with UV rays.
A new term to the children's wear market; Tom & Drew have created "suspenderalls" in denim and also Pima cotton jersey. Suspenderalls are pants that have attached suspenders, giving overalls a revamped, gentlemanly look. The denim suspenderalls have "hidden knee art" (embroidery underneath a reinforced layer of denim.) Phrases such as "play hard" will be seen when boys are on the playground and scuff up their pants.
Visit http://tomanddrewboys.com/ to view the complete collection.