Fashionable Media Review Policy: The featured product for this review was provided to me, at no cost, by the manufacturer or representing PR agency for the sole purpose of product testing. Opinions expressed are my own and are not influenced by monetary compensation.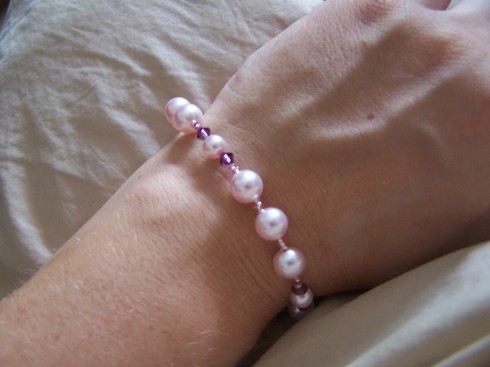 "Large and small peach colored Swarovski pearls give this lovely bracelet texture, while amethyst Swarovski crystals give it elegance. Simple and beautiful, this bracelet is fun and pleasant to wear."
My oldest daughter actually received this (featured above) God's Princess Peach Pearl Single Strand Bracelet to review and she really liked it! We both found it comfortable and lightweight to wear. It was a good fit on both of us. Not to mention that we both thought it very pretty! This bracelet is handmade, as is the whole collection of The Joy of Jewelry. We liked the colors the creator used with the pinks and purples. Not sure why it's called "peach". Even though the clasp was different, it was easy to use and it has cute little hearts on it making it very feminine. This elegant looking little bracelet came packaged with ribbon in a cute box so it is already gift wrapped if you wanted to send it as a gift. The bracelet is very affordable and only costs $17.99.
The interesting thing is that The Joy of Jewelry's tag line is "elegant symbols of purity", so this left me wondering if the creator has made this collection for young ladies saving themselves for marriage. My daughter just told me that she completely missed this fact somehow, so now we are both wondering.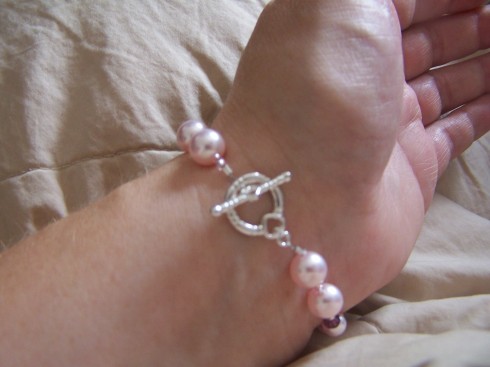 Here are a couple of other products from The Joy of Jewelry:
Purple and Crystal Dangle Earrings
Pearl Double Stranded Bracelet:
You may visit The Joy Of Jewelry at this link.