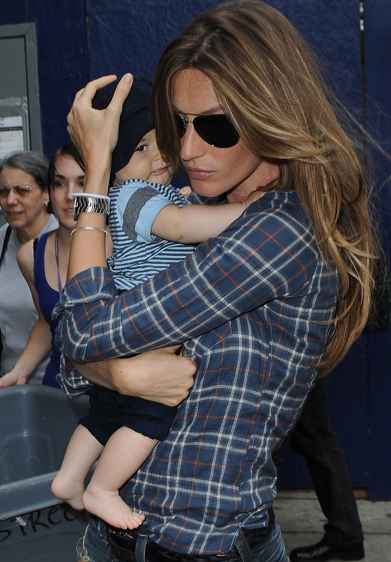 I know this may hit some nerves, but hey, we have to have some controversial posts amidst our sales, reviews and fashion news, otherwise we get a little stagnant here, don't we?
So….here we go….did you see the article about celebrity mom and model, Gisele Bundchen, stating that she thinks that breastfeeding should be international law? She also stated that she thinks moms should breastfeed for at least six months. You all can guess where I stand on this issue, but what do you all think about Gisele Bundchen's strong comments?
Let's play the "What if" game…What if some strong breastfeeding advocates were to take this and run with it, resulting in it becoming law to breastfeed your baby for a mandatory six months? What would you do? How would you react and why?
Seriously think about this, whether you are a breastfeeding mom or a bottle feeding mom.
Betty Confidential did not agree with Gisele Bundchen at all. The link is below in the resource section. There was an even larger outcry among the general public, which celebrity mom, Gisele, came back to explain her comment, which you can read about here. Apparently, she isn't advocating that breastfeeding become law at all, she was just stating her opinion as a new mother seeking to do what is best for her child.
In the end, isn't that what every mother wants anyway?
Resources:
http://www.usmagazine.com/momsbabies/news/gisele-bundchen-mandatory-breastfeeding-should-be-a-worldwide-law-201028
http://www.bettyconfidential.com/ar/ld/a/hot-links-gisele-bundchen-breastfeeding-should-be-required-by-law.html

http://www.usmagazine.com/momsbabies/news/gisele-explains-her-breastfeeding-law-comment-after-public-outcry-197031?related=1