Congratulations to Kristin!!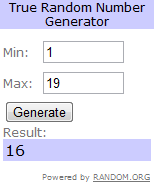 Comment #16 chosen by Random.org
Thank you to everyone who entered and a huge thanks to our friends at KMR Communications for sponsoring this giveaway and giving our readers the opportunity to get a new Winkee!!!
---
One of the PR companies we work with is giving away a Winkee! Here's what they have to say about this product: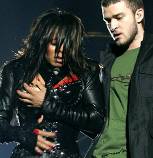 Wardrobe malfunctions are so 2004.
From slip-ups and slip-outs, sometimes clothes develop a mind of their own. For many women, it seems the dreaded bra flash (or much worse, as Ms. Jackson has demonstrated) happens at the most inopportune moments. No matter the size of your bosom, a low-cut shirt can become a source of discomfort in certain settings. Whether in the office or at a family function, every woman has asked herself "Is this top too revealing?"
For women everywhere, the Winkee is that "Why didn't I think of that?" product that will change how clothes are worn forever. With this revolutionary fashion accessory, you'll never again have to use safety pins, duct tape, or your hands to cover up unwanted exposure!
Go from boardroom to bodacious in seconds with the

Winkee!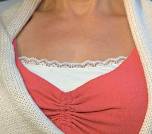 The Winkee, created by entrepreneurs Patricia Calamari and Karla Kennedy, is the ultimate solution to plunging necklines. Combining the concept of a tank top layer with the added benefit of being removable, the Winkee is a revolutionary mock camisole which allows women to effortlessly cover up cleavage when they need to. Now you can switch from "day to night" seamlessly without having to change outfits completely! Placed over any bra with two straps, the Winkee offers optimal coverage without compromising style.
According to Patricia, "The Winkee is a must-have fashion accessory that solves every woman's occasional need to have a multi-purpose outfit. From the jetsetter who simply wants to pack lighter, to today's multi-tasking woman who wants to go from a day at the office to a night out on the town with friends, the Winkee has you covered – literally!"
The

Winkee is easily attached to any bra with two straps in three easy steps: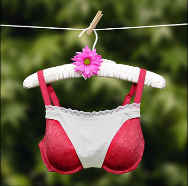 1. Stick Winkee Dots on the inside of each of the three Winkee tabs
2. Wrap top side tabs around straps of bra
3. Wrap bottom tab under the middle of front of bra
In styles such as Romance, Rouched, and Sweetheart, all in various colors and patterns, there's a Winkee to fit every occasion. Your "bosom buddy," the Winkee offers an affordable way to maximize your outfits without compromising their design. Priced from only $17-$20.
Meet the Founders: heART & soul studios
heART & soul studios, Inc. was founded in 1999 by long-time friends Patricia Calamari and Karla Kennedy, who shared an overwhelming desire to display the creative spirit of individuals with disabilities.
Patricia, who has been creating art for as long as she can remember, has been an image maker and mentor for children for 20 years. She attended the School of Visual Arts in NYC and later finished her Bachelor of Fine Art at Lynn University . In 1994, Patricia went to work for a center for individuals with profound disabilities. There she was inspired by a very special population to create a unique shared painting process. The results have won national awards.
Karla saw a serious benefit to their invention when she was diagnosed with breast cancer. During chemotherapy, she discovered the Winkee helped camouflage her chest port. Although it was a difficult time for Karla, her strength and her friendship with Patricia flourished because of a desire to change people's lives. Since her recovery, her philosophy in art and in life has been to pass her talents and her faith forward to all those around her.
For products or more information, visit www.thewinkee.com.
Soooo…….you wanna win a Winkee?
TO ENTER:
eave a comment telling me what you think of the Winkee.
Extra Optional Entries: (Leave 1 comment for each extra entry.)
1 Entry: Follow @fashionablebaby on Twitter (include your Twitter name in comment!)
1 Entry: (per day) Tweet about this contest. Leave 1 comment for each tweet with the link to tweet.
GIVEAWAY! Enter to win a The Winkee! @fashionablebaby http://tiny.cc/WinkeeGiveaway Please RT!
1 Entry: Become a fan of The Fashionable Bambino on Facebook
3 Entries for: Become a fan of The Winkee on Facebook
1 Entry: Subscribe To The Fashionable Bambino's RSS Feed
5 Entries: Blog about this contest and link back to this post and The Winkee.
1 Entry: For every comment you leave anywhere on the blog besides here, you may add one extra link for each comment. Be sure to leave an entry comment on this post saying you posted your additional comments!
(Note: You must leave 1 comment per entry. Extra entries will not be counted unless you leave a comment for each one.)
Sometimes our spam catcher is a little over zealous and will snag your comments if you leave multiple comments very quickly, one after another. I recommend waiting a minute between each comment. If the spam catcher gets you anyway, don't worry! Your comments have still been submitted, they are just being held for moderation. I approve them as quickly as possible. If you are very concerned about this issue, you may email me and let me know what the problem is.
Details
Contest runs from September 20th-October 3rd. Last chance to enter is October 3rd at 11:59pm ET. One winner will be contacted on or before October 30th, 2010 and asked for full name, along with their mailing address, etc. KMR Communications will be sending one winner a Winkee! If no response is given within 48 hours, a different winner will be chosen, so please be sure to check your email. Must be 18 or older to enter. Contest open to only the USA!