Fashionable Media Review Policy: The featured product for this review was provided to me, at no cost, by the manufacturer or representing PR agency for the sole purpose of product testing. Opinions expressed are my own and are not influenced by monetary compensation.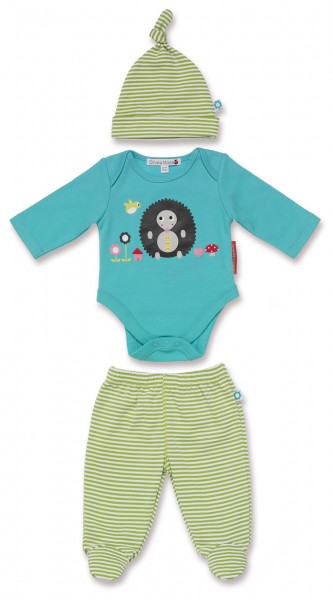 This Olive & Moss gift set of Herbie the Hedgehog is adorable. I am wearing it on Sir Eats Alot today as we go out for a field trip. I love it on him! It is made of cotton and is very soft. It just fits him. One thing to be aware of if you have a big baby is that this outfit does shrink up a bit so shop accordingly. This complete set comes with a top that snaps at the crotch, pants with footies (yay! no socks to lose!) and a little hat. The hat does not fit my son's head very well since it shrunk, unfortunately. I am just happy that the outfit fits him!
Olive & Moss has many cute baby outfits to choose from. They are based out of the UK, so those of you in the US be aware of that. Their cute baby clothes make great ideas for baby showers and the holiday season that is upon us.
The Herbie the Hedgehog gift set sells for 34 British pounds.
For more cute baby clothes from Olive & Moss visit www.OliveandMoss.com