Fashionable Media Review Policy: The featured product for this review was provided to me, at no cost, by the manufacturer or representing PR agency for the sole purpose of product testing. Opinions expressed are my own and are not influenced by monetary compensation.
Old-fashioned and unique vintage clothing has always been an interest of mine. My girls and I love styles from the Victorian era, Civil War era and other eras as well. Unique Vintage Clothing is an online boutique offering exactly what its name says – Vintage Clothing. Read more about Unique Vintage here.
For the month of October, Breast Cancer Awareness Month, Unique Vintage is donating 20% from the sales of the following pink items to the National Breast Cancer Foundation, Inc. From pink water canteens to pink floral aprons, there are lots of opportunities to Think Pink. They sent me a wonderfully pink vintage apron in honor of Breastfeeding Awareness Month.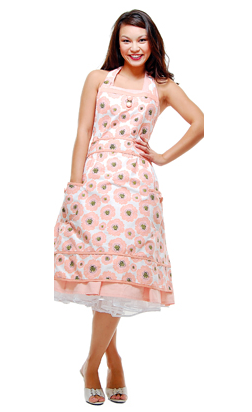 Jessie Steele's vintage-inspired, hostess and kitchen aprons prove true the old adage that beauty and style are timeless. Influenced by the romantic visions of a bygone era, and designed in vibrant colors, flirty patterns and figure flattering shapes, these fine quality, retro-chic cooking aprons make the perfect fashion accessory in or out of the kitchen. This style is their bib floral apron. A perfect gift for yourself or someone you love!

Make up by RockMyMakeUp. Modeled by Mai Vo.
I love this Jessie Steele apron. It is pretty and fashionable, not to mention comfortable! It also looks wonderful on my oldest daughter. We haven't washed it yet or even cooked in it because we weren't sure if we were going to have to return the sample. So unfortunately we cannot tell you how it washes up.
Here is the pink list of other items that Unique Vintage is donating 20% of sales to the National Breast Cancer Foundation:
Pink Ribbon Stainless Steel and Eco-Friendly Water Canteen; $22
Pink Ribbon Laptop Skin; $22.50
Pink Ribbon Candle: Fruity notes including fig and banana, balanced with lavender and vanilla; $22.50
Pink Ribbon Purse Hanger w/Mirror: To keep your purse from falling on the floor; $15
Pink Ribbon Wine, Martini and Champagne Glasses and Box; $25 each
Pink Ribbon Sundae Bowl; $23.
Chic Pink Umbrellas: Pop open these fun and colorful umbrellas rain or shine; $25 each
Luxe Couture Handmade Pink Sequins and Petal Applique Hair Clip; $50
Danger Lily Fuschia Orchid Hair Clip; $25,
Pink & Black Tiger Print Bow Hair Clip; $10, Danger Lily Pink Daisy w/Feathers Handmade Hair Clip; $36
Jessica Steele Pink & White Floral Apron; $30, Jessica Steele Pink & White Floral Market Tote; $22
Lux De Ville Pink Sin City Motor Kiss Lock Purse; $66
Songbird Pink Guitar Cosmetic Case; $95
Pink Lipstick Keychain w/Mirror; $16
If you are thinking pink this month, please leave us a comment telling us how and what you are doing to think pink!