Here is a gift for moms (and their partners) and the deal of the day…..KMR is offering a special discount on some sexy lingerie that just might make your Christmas hotter than usual (wry smile).
This fancy lace baby doll was featured in their clearance section, priced at only $34.95: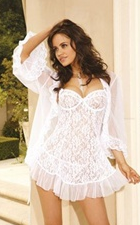 To receive a 15% discount on any purchase you make at www.sophiasclosetinc.com all you need to do is put in coupon code KMR15 when you make your purchase. This offer is good for US residents only!

About Sophia's Closet & Some Tips to Choosing Your Lingerie
Long before Lady Gaga and the scantily dressed women of "Lady Marmalade," it was Madonna and her infamous cone-shaped bra that made underwear sexy again. Seen on recent runways from high-end designers such as Zac Posen and Cynthia Rowley to shopping malls and local boutiques, corsets, bodysuits and bras are once again enjoying a revival on the main fashion stage.
"Lingerie has evolved from women wearing heavy taut contraptions with laces and pulleys to what we typically see today – sexy, silky and lacy," says Joyce Hankins, Co-Founder of Sophia's Closet, a premier on-line lingerie retailer that makes women feel confident, beautiful and sexy in what they put on, not what they take off. "The lingerie industry has changed drastically over the years and is being driven by the advent of modern technologies and fabrics that help in designing innovative products. From laser-cut seamless bras and molded T-shirt bras, designers are putting greater emphasis on quality fabrics, laces, embroideries and more daring colors. From bras and bustiers to camisoles and corsets, women have more options on style, design and fabric than ever before."


Adding a Little Romance to an Ordinary Day
Lingerie is no longer reserved for special occasions, but has become part of a woman's everyday wardrobe. "Some women wear sexy lingerie under their everyday clothes to give themselves that extra boost of confidence," says Joyce. "Women are beginning to rediscover their femininity and sensuality through lingerie. The stigma that lingerie is scandalous and seedy has been lifted. Our collection of intimates offers women styles that are beautiful, elegant and sexy all in one."
Sophia's Closet offers a variety of lingerie from babydolls to teddies and every style in-between to flatter different body shapes and sizes. Below, Joyce recommends styles that are the most flattering for every body type. "The secret is to pick pieces that conceal the body's flaws and accentuate its features," Joyce notes.
Athletic Body
For toned and slender figures like workout guru Jessica Biel, stick with bustiers, halters and camisoles that show off sculpted bodies and enhance the bust line. "Slim necklines and padded bras boost the bust while the sexy lace shorts add definition to curves, accentuating a great butt," says Joyce.
Stretch Lace Tie Front Halter Bra Top and Matching Stretch Lace Short
Cost: $44.25
Stretch Lace Halter and Shorts with Fringe Hem and Jewel Accents
Cost: $50
Microfiber Camisole with Matching Boy Shorts with Contrast Ruffle Detail
Cost: $59

Pinstripe Mesh Camisole with Gold Appliqués and Matching Shorts
Cost: $63.80
Petite Body
As see on starlet Kristen Bell, a small frame is a key feature that characterizes a body as petite. Joyce urges women with small figures to steer clear of pieces that
leave the entire torso exposed. "Garments that fall past the hips help to visually elongate the body while keeping its sex appeal," says Joyce. Styles including
babydolls, chemises and camisoles are ideal to flaunt a small shape.
http://www.sophiasclosetinc.com/PhotoGallery.asp?ProductCode=DG4208
Jacquard Underwire Tulip Cup Babydoll with Sheer Back "V" and Matching Thong
Cost: $52.25
Off the Shoulder Babydoll with Satin Ties, Lace Cups and Satin Thong
Cost: $42.25
Scalloped Lace Trim Chemise with Removable Shoulder Straps, Lace Thong
Cost: $63
Camisole with Camouflage Printed Lyrica and Matching Thong
Cost: $31.35
Tall Body
Tall and lean figures comparable to Hollywood's Cameron Diaz look best in pieces that accentuate their long figure. "Corsets and garters, as seen below, create a
horizontal line across the belly drawing attention to the body's length and curvature," Joyce says. Babydolls, corsets and gowns are styles that show off a tall woman's figure.
http://www.sophiasclosetinc.com/PhotoGallery.asp?ProductCode=DG5503
Stretch Mesh Solid and Polka Dot Babydoll with Expandable Underwire Cup, Low Back
Detail
Cost: $63.80
Stretch Lace Corset with Embroidered Trim Straps with Matching Garters and Thong
Cost: $44.25
Satin Jacquard Corset, Lace Trim, Removable Garter Straps and Matching Thong
Cost: $72.85
Lyrica Net and Stretch Lace Gown with Matching Thong
Cost: $55.85

Full on Top
When it comes to tops, all full-chested women would agree they need as much support as they can get. For women with bodies similar to A-lister, Scarlet Johansson,
Joyce recommends corsets and bustiers to enhance the waist's curve, flatten the stomach and support the bustline. "These styles bring out great cleavage while
providing women with a slimmer look to their overall appearance, pushing their breasts into an upward position," she says.
http://www.sophiasclosetinc.com/PhotoGallery.asp?ProductCode=DG+5527
Charmeuse Low Back Sleepwear Babydoll and Matching Robe, Includes Matching Padded
Lingerie Hanger
Cost: $42.00
Lace Over Mesh Bustier, Stretch Mesh Back, Matching Thong and Adjustable Removable
Garters
Cost: $50.25
Knit Corset with Overlay, Ruffled Hem, Matching Thong, Removable Garter Straps
Cost: $87.80
Stretch Lace Underwire Bustier with Removable Back Tulle Veil, Matching Thong and
Stockings
Cost: $48.85
Small on Top

Women with little curves and a small top, like Kate Hudson, look to styles that draw attention to the shape and elegance of their body lines. Light and delicate styles
with lace compliment the bustline while showing off a thin body figure. Joyce recommends seeking thin straps and little clasps so accents are in proportion with
her cup size. "This will help to accentuate her top," she adds.

http://www.sophiasclosetinc.com/PhotoGallery.asp?ProductCode=DG7086
Stretch Lace Bustier Bra Top with Matching Strap Shorts
$41.35
Knit Chiffon Double Layer Babydoll with Scalloped Lace Cups, Embroidered Wire and
Matching Thong
Cost: $42.25
Stretch Knit Chiffon, Microfiber Plaid Halter, Lace Ruffle Neck, Low Rise Panty
Cost: $51.80
Pinstripe Microfiber Babydoll with Stretch Sheer Insets, Ruffle Hem and Matching Thong
Cost: $52.25
Curvy Hips
Recently, reality star Kim Kardashian has become a style icon for every woman with defined and curvy hips. "The trick is to pick robes with belts or fitted teddies
that highlight curves but whittle the waistline," says Joyce. Although these styles may not bare as much skin as others, they are very flirty and sensual.
Pleated Chiffon Robe with Satin Trim, Matching Belt and Thong
Cost: $44.25
Chiffon Robe with Attached Belt, Matching Embroidered Lace Bra and Thong
Cost: $50.25
Chiffon Robe with Shirt Style Detailed Collar and Matching Lace halter Bra Top and
Thong
Cost: $47.85
Polka Dot Stretch Mesh Teddie with Eyelet Lace, Satin Bow Trim and Snap Closure
Cost: $43.45
About Sophia's Closet

Sophia's Closet is a European influenced on-line retailer of women's lingerie that honors and explores romance with grace, elegance and sophistication. From flirty designs to demure styles, the company sets a new standard in the lingerie industry with pieces that flatter individual shapes and sizes. Sophia's Closet caters to
every woman that is seeking a variety of unique romantic styles. The collection includes babydolls, bustiers, camisoles, chemises, corsets, gowns, robes, shirts and
teddies. To view the full collection of pieces, please visit: www.sophiasclosetinc.com