The holiday season is upon us, and so begins the endless stream of nights out for parties, dinners, events and more parties. With this comes dressing up and putting
on those party shoes. Although they look fabulous, those favorite pair of holiday high heels can bring on pain and make already sore feet scream out 'Slippers
please!'. "Squeezing feet, already aching from bunions and hammertoes, into high heels can bring on agony and put a real damper on a festive holiday party," says Dr.
Krista Archer, a podiatric surgeon and foot specialist. "There are some simple ways to ease the pain before a night out."
Bunions and hammertoes are caused, in part, by an abnormal balance of the muscles and tendons of the toes. This leads to enlargement of the joints, and in turn, a
malpositioning of the front of the foot. "When someone with bunions and hammertoes puts on a pair of high heel and walks, their joints rub excessively. This causes
increased friction and results in redness, swelling and pain," explains Dr. Archer. "Although definitive treatment of bunions and hammertoes most often requires
surgery, there are several self-treatment steps you can take to lessen the pain and enjoy the night."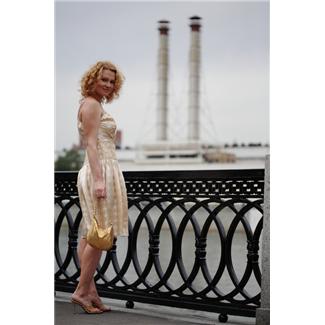 Always bring a back up. The trick to wearing high heels comfortably is to limit your constant standing time in them to no more than three to four hours. Bring along a
pair of your comfy flats or try Kushyfoot(R) Flats-to-goTM which are super slim, almost disposable ($8.99/pair) and fold in half into their own plastic pouch that
easily fits into a purse. After arriving at the party, and enjoying your first cocktail, you can discreetly slip out of your heels and give your feet a rest. No
one will notice! Pad your soles. Shoe pads are available in all different shapes. Depending on your symptoms, these pads are applied to the inside of your high heels. Some examples are Foot Petals(R) Red Carpet Collection and Dr. Scholl's(R) For Her High Heel Insoles. Kushyfoot(R) also makes peds that are lined with toe and heel padding and designed especially for stiletto-wearing. Lastly, if you have been experiencing ball of foot pain for years, you make have fat pad breakdown. This can be treated with an injectable filler (Sculptra(R)) to plump up and pad from within. Pad your toes. If bunions and the tops of your toes get very red after high heel
wearing, you can buy toe pads to either stick onto or slip over the painful area. Keep in mind the thinner the better, as you don't want to tighten the shoe further
with too much padding. A prescription patch is also available. It is lined with numbing medicine (Lidoderm) that can be cut to specific shapes and applied to
painful areas. Decrease inflammation and swelling. Before you go out to your party, soak your feet in icy-cold water for 10-15 minutes. Follow this with elevating your legs and feet for 20 minutes. This strategy will reduce foot and leg swelling and calm painful and irritated joints. Ibuprofen (i.e., Advil, Motrin) can also reduce pain and
inflammation, but use caution if consuming alcohol. Also try compression hosiery (also available at pharmacies) to reduce swelling and keep feet from getting more swollen over the course of a party. If all else fails, a foot doctor can inject anti-inflammatory medication into and around the painful joint(s) before your event.
Remember to always seek medical attention if pain is out-of-proportion and/or persistent.
About Dr. Krista Archer
Dr. Archer is a Doctor of Podiatry Medicine and an Associate of the American College of Foot and Ankle Surgeons (AACFAS) and is currently on staff at Lenox Hill
Hospital. Dr. Archer performs her surgeries at Lenox Hill's Ambulatory Surgery Facilities, the Center for Specialty Care, and at her fully-accredited in-office
operating room (JACHO). She is a member of the American Podiatric Medical Association (APMA), and the New York State Podiatric Medical Association (NYSPMA).
Dr. Archer specializes in all aspects of podiatry, with a focus on surgery. She treats a variety of issues affecting the foot and ankle. Dr. Archer completed a
three-year surgical residency program where she received extensive training in foot and ankle surgery. Dr. Archer went on to receive further training in foot and ankle
arthroscopy. She is specifically equipped to diagnose and treat all foot and ankle problems in her state-of-the-art Manhattan office. Dr. Archer is currently investigating the efficacy and use of laser in the treatment of warts and fungus, and is developing her own product line to be available this year. For more information, please visit www.drkristaarcher.com.