Surprise! A giveaway during the middle of the week! Call it a pop-up giveaway if you wish, but we were given the opportunity to participate in this special holiday giveaway in timing with the Oprah's Favorite Things Show, which aired just last week, and the gift giving season.
Starting today Fashionable Bambino readers may enter this Scrollmotion Holiday 2010 Giveaway contest. Keep reading to find out how…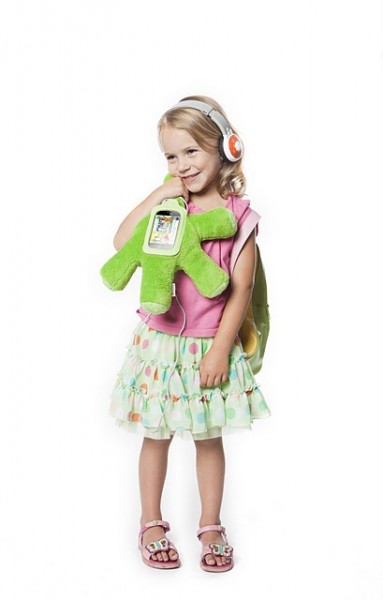 Scrollmotion is the creator of the Iceberg Reader and the Iceberg Kids Reader. They have quite the line of credentials. Take a look at the companies they have developed apps for: Oprah's O Magazine, Esquire Magazine, People Magazine, Houghton Mifflin Harcourt, Random House, Simon and Schuster, Wiley, The Tribune Company, Conde Nast, Time Inc., Lifetime Television, The Jim Henson Company, and many others. Publications such as PC World, The Wall Street Journal, The New York Times and Mashable have all written feature articles about Scrollmotion and their readers.
The giveaway includes two (2) Griffin Technology Woogies and ten (10) Apps developed by Scrollmotion which include Oprah's O Magazine App, and Apps from the Curious George books, Mr. Men books, Veggie Tales books, Kindermusik titles, Maisy Mouse books, Sesame Street books, and Todd Parr titles to (1) lucky winner. Retail value $150. (earphones, Iphone & Ipod is not included in this giveaway).

Please note that we will not be drawing the winner. One winner will be picked from Scrollmotion's list of Twitter followers and Facebook fans when they hit 1,500 Twitter followers and 1,000 Facebook fans.
To Enter:

You must do the following 3 things:
1. Visit the Scrollmotion website and make a comment here or on our Scrollmotion Facebook Wall telling us which app you think your kids will like the most for the holidays to use with their new Woogie soft Ipod or Iphone plush toy holder.
2. Follow Scrollmotion on Twitter.
3. Like Scrollmotion on Facebook.

Earn an Extra Entry:
If you retweet our contest on Twitter, you will get one extra entry.
See the Woogie by Griffin Technology video below to see how kids love it:
One winner will be chosen randomly by Scrollmotion once Scrollmotion has 1,000 Facebook fans and 1,500 Twitter followers. Contest will begin today, November 19, 2010 at 9:30AM PST and end when Scrollmotion hits 1,500 Twitter and 1,000 Facebook fans. 1 (One) Winner will be chosen randomly by Scrollmotion from the Facebook and Twitter lists 24 hours after Scrollmotion hits 1,500 Twitter followers and 1,000 Facebook fans. The winning prize package will be sent out from the Scrollmotion Marketing offices. The prize will be sent directly to the winner's home address. Prize package is not redeemable for cash. $150.00 cash value of 1 (one) Scrollmotion Holiday 2010 Giveaway prize pack is an approximate retail value. Winner must respond within 48 hours of email contact from Scrollmotion or prize will be given to another randomly selected contestant. Scrollmotion has the right to substitute prize colors, prize value, actual prize, prize brand, sizes, and or configuration based on availability at the end of the contest. Winner will only be chosen from contestants who have done all 3 required tasks in the contest rules in this post. Prior to receiving the prize, winner must submit a testimonial and a liability release form signed and sent back to the Scrollmotion offices. This contest is restricted to US Residents.