class="social4i" style="min-height:29px;">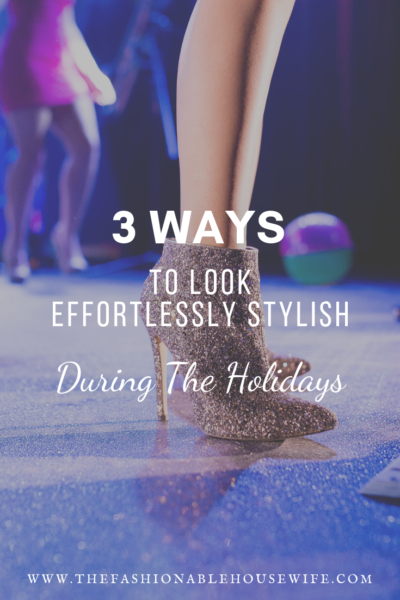 The holidays are a time that require so much planning and thought, and for parents that's multiplied by 100! We have to think about the events, travel, food and spending time with family, and making sure our kids are entertained and look put together. With all this on the list, it's so easy for our own needs to slide off the list of priorities completely. But the thing is mom and dad still want to
look good
in those holiday photos and it often feels like you have to have a stylish to be able to do this, because it's hard to take the time for yourself. The great thing is you don't have to spend hours planning your next outfit to do it. It's all about having some foresight about your schedule and doing a bit of preparation and selecting the right pieces to make it easier. So how can you make sure you look your most stylish during all the festivities of the holidays, from
Christmas parties
all the way to
New Year's
Eve? Here are some helpful tips for stepping up your holiday fashion game.
Plan Ahead for Your Holiday Fashion Moments
First thing you have to do is plan ahead and take a lot of thought out of your outfits as far in advance as possible. Let's face it, when you have a whole household of kids to dress up and feed, it will be hard to put as much thought and effort into your own looks. As the saying goes, "it's either my kids look good or I do." Well if you want to make sure the whole family looks photo-ready, just start by planning 5 great outfits ahead of time. Have a couple of special occasion outfits that are more dressy, and then make the rest smart casual. Make this easier by selecting more than 3 tops for the smart casuals so there are multiple options to go with each skirt/pair of pants or jeans. Don't forget to add your accessories so you aren't running around looking for earrings and necklaces when you need them. From there, put those things aside so that on the day you know it's already planned out. You can even plan using one of these
apps
to make it even easier. to plan your holiday fashion looks.
Quality Finishes and Accessories
When you don't have a lot of time to put toward outfit planning, nothing beats quality and eye-catching details in your holiday fashion look. This means focusing on maybe wearing less pieces like a dress instead of a top and bottom, and making sure that one piece looks really good. It's about wearing stuff with very luxurious fabrics and beautiful finishes and designer touches. It's opting for a pair of
bespoke shoes
instead of something more plain because it will make a stronger impact with less effort. By making really smart fashion choices by carefully selecting the most visually impactful fashion looks, you can look like a stylist worked on you without wearing your whole closet.
Don't Be Afraid to Experiment With Color
One of the best ways to look effortless is to play around with color. This is especially true during the holidays because it's a great time to wear something bright and even slightly shiny (for New Years Eve). This is when you can pull out those red, dark purple and even bright green dresses, tops and accessories. When we say bright colors, we're not talking about those ugly Christmas sweaters, we're talking about being really stylish in our experimentation. There's a way to
tastefully
wear bright colors without looking outdated or like a traffic light. It's all about balancing out the colors if you're wearing multiple pieces and accessorizing right when you're wearing one piece. When it comes to holiday fashion, it's not always easy to bring your A-game when there's so many other things we need to prepare and do for our families. But that doesn't mean we have to skip out on having some great holiday fashion moments. With enough planning and thinking along the lines of less-is-more, fashion during the festive season is within your reach.
Moms
and dads can look great without it being a huge load of stress or time on your part. Have fun with it and you'll be surprised how you can look!