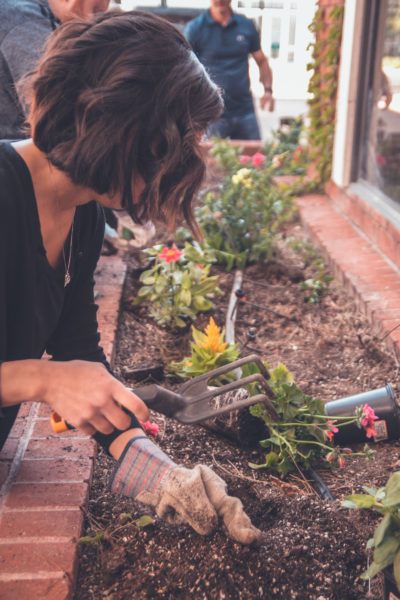 Stay-at-home moms oftentimes find themselves craving adult attention and activity, even though they're still devoted to their children's needs. It's only natural to want to experience adult activities and step away from cartoons and crayons for a while. Luckily, stay-at-home moms have a myriad of creative, fun activities they can enjoy while at home with the kids. Four fun ideas are listed below.

Plant a Garden
Gardening is an activity the little ones can help with should that need to happen. It also teaches kids how to grow their food, the value of patience, and a plethora of skills they'll take with them in life. Gardening is a hobby that people of all ages enjoy, that pays off handsomely in amazing rewards of fresh fruits and vegetables to feed the family.

Strike a Pose
As an amateur photographer, you can snap lots of awesome photos of the kids, the house, the garden outside, the neighborhood, birds, nature, and so much more. As your skills improve, you'll find yourself taking some pretty intricate and amazing photos that will warm your heart. Create scrapbooks with your shots and you can always remember those special days that are gone before you know it.

Candle-Making
Candle making is a fun hobby that stay-at-home moms can turn into a lucrative business if they choose. Purchase a few craft supplies from Adelaide Moulding and Candle Supplies and the rest is simple. Everyone enjoys candles, especially those that fill the air with pleasant scents. You'll enjoy every minute of your candle-making experience, especially if you decide to turn it into a business venture.

Join an MLM
Selling products is a fun pastime that provides stay-at-home moms with an outlet to connect with the outside world, enjoy themselves, and make some extra cash all while the kids take their nap or play. Choose a product of interest to get involved with, like Arbonne. It's up to you to choose how many hours you work!

The four hobbies above are some of the many ways stay-at-home moms can enjoy themselves while at home with the kids. This isn't a complete list of activities but is a look at some of the best. Are you ready to find a great new hobby?