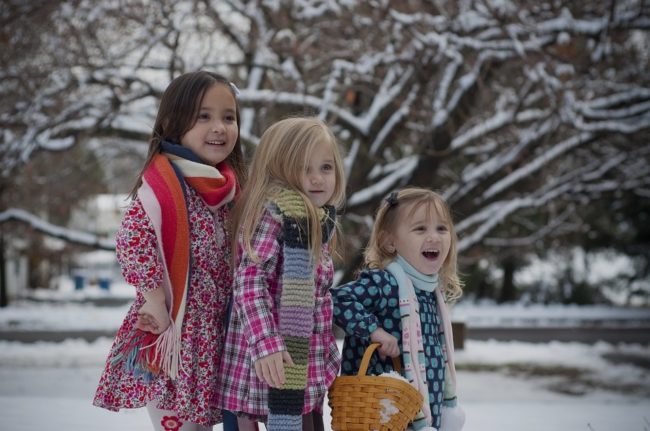 Since kids outgrow winter clothes most years, then chances are you will shop for new gear soon. How can you make sure your kids look good, stay warm, and are easy to spot after dark? We talk about four of the top ways to stay stylish and functional in this post.
Homemade scarves and hats
An inexpensive way to protect little fingers and faces is to crochet, knit, or sew new hats and scarves each year. You can shop for your favorite fabrics like flannel or fleece to find a pattern that is fun and bold. The best part is you can customize each item to the child by using his or her favorite color. You can also create winter gear using themes. For example, a pair of gloves with snowflakes or other decoration sewn onto the back of the hands is one example.
Bright colors for coats to ensure pedestrian safety
Since the days get dark much sooner in the cold months, it is important for parents to buy clothing that makes children easy to see. One of the best ways to ensure little ones are visible when crossing the road or walking down the street is with bright colors. Shopping designer baby clothes online allows parents the opportunity to find clothing with vibrant colors. Fluorescent colors like hot pink, yellow, white, and orange stand out in headlights.
Light up boots
Most kids like things that light up. Boots are no exception. Get your child to dress for the weather with a fun, new pair of boots with lights. Not only will this be entertaining for your child, but it also increases their safety during evening activities. While bright-colored clothing goes a long way, flashing lights are always a definite sign to drivers to watch out for something ahead. 
Snow jumpsuits for sledding
When your child gets sick often or likes to play in the snow, it is excellent practice to put them in a snowsuit. Then, there are fewer problems with wet clothes and exposure to the wind. If getting your child to dress warm enough for the weather is impossible, then it may take a new rule. Telling your kid to go outside and feel the air for a minute with no coat is one idea for older children. For younger ones, a simple temperature range is a good thought. Telling your little ones to bundle up in snowsuits when the temperature is below a particular number may help.
Your family can stay hip and trendy while being warm this winter. With the right clothes and a fun attitude, kids will want to wear winter gear. Parents can set the example and wear handmade items to show kids it is fun staying warm.