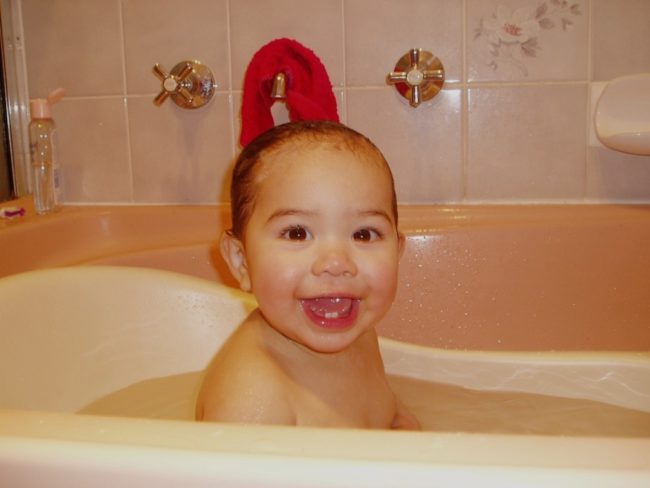 The bathroom may be one of the smallest rooms in your home, but it is certainly an important room when it comes to keeping everyone healthy. In addition to having a friendly local plumber handy whenever there are any plumbing problems, there are extra challenges when it comes to making it friendly for a baby. "Safety first" has to be the main motto, and here are two good ideas when bathing newborns.
Faucet Covers
While you should be cushioning your baby when they first are being bathed and need help sitting up, there will come a point when your child can sit up on their own in the tub—mostly. Sitting on a slippery surface can cause accidents for the most coordinated of humans, and babies are not the most coordinated. This means that they can at unexpected moments lose grip underneath their bottoms and slide in all sorts of directions, including at the faucet and drain cover. Putting padded covers on these parts of your tub can make slips much less painful on your baby.
Bath Appliques
These make baths fun and safer from sliding for youngsters as they will watch the animal designs delightfully and take time walking carefully. The colorful appliques come in a number of sheets and are easy to apply to the bathtub if that is what you are using for an older baby. Of course, a sponge insert is much better for babies who are still lying down in the tub and need the extra support, but once your baby is sitting up and maybe even toddling, appliques can make bath time more fun and safer.
Heat Control
Of course, it is important to not leave the baby unattended in the tub, as they can drown in even the most shallow of water. However, that doesn't mean your baby won't go toddling into the bathroom on their own at some point when you're just in the other room. Curious toddlers grab onto anything at their level, and that can include bathtub faucets. If the water is turned on to boiling temperatures, your baby can incur serious burns even if you come running at the sound of the water starting. With the help of a local plumber, you can actually put heat control on your water system to faucets from producing burn-producing temperatures, protecting your baby as they grow and can reach more.
Secure Storage
Even if something isn't labeled as toxic, any soap or cleaning substance can be dangerous if ingested in large amounts. Keep your soaps and shampoos high up away from where the baby can reach and, if in lower cabinets, use baby-proof locking systems. This will keep your little one from exploring the colorful liquids with their mouth, as babies love to do, and bringing harm on themselves.

With a little bit of planning and organizational ideas, you can stay within a small budget and still "jazz up" the bathroom and make it cheerful and welcoming for the new addition to the family. He or she in turn will make it easier on you to do the bathing by being distracted and calm because of the above recommendations and the products that innovative companies have invented for a baby's safety and attention.