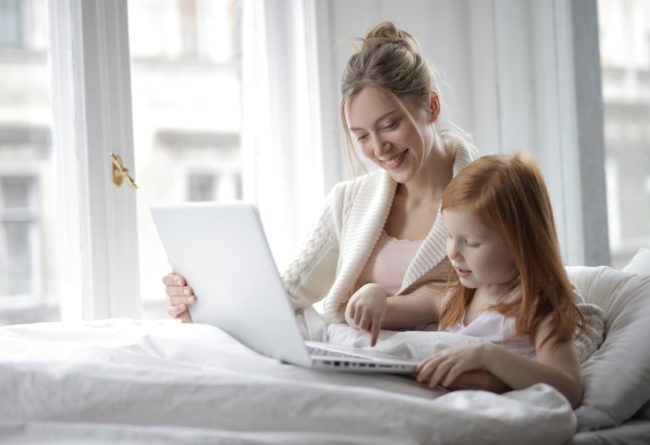 Children today are born into a world where they often need to use the internet for school and other activities. While there is no doubt that the internet is filled with valuable educational opportunities, it does come with the downside that children could be exposed to potentially dangerous people and content. Keeping your kids safe is easier when you know how to teach them how to use the internet appropriately.
Teach Them About Personal Information
For the most part, children should only encounter people their age if they stick to trusted websites. However, there is always the possibility that they could run into someone with bad intentions. Your child might not realize how much someone online could do with simple information such as the name of their school or sports team. Talk to your child how important it is to not share their name and other types of personal information with strangers. Then, let them know to tell you if anyone asks for too much information so that you can investigate what is happening.
Establish Limits on Screen Time
Children often zone out when visiting their favorite websites. However, if you work from home, your internet connection might slow down if too many people are using it at the same time. You can help your child moderate their usage by setting time limits. The right amount of time will vary according to your child's age and family's beliefs. As a general rule, start with lower amounts of time that you can increase as your child grows and demonstrates responsibility. However, sometimes your children may need to use the internet to complete online schoolwork. In order to ensure that everyone is able to use the internet without sacrificing speed, consider finding a service that offers Spectrum Internet Plans. With the right internet plan, your children can complete their schoolwork online without interfering with any online work that you need to take care of.
Discuss Appropriate Websites and Social Media Platforms
An innocent child might not always recognize when they are opening up a website with inappropriate content. Talk to your child about the websites that you prefer them to use. For example, many schools recommend certain educational sites that teach kids valuable math, science, and reading skills. If your child wants to use social media, then pick a platform that you feel is safe and can monitor as they start connecting with friends.
Use Parental Controls to Monitor Their Online Activities
As a final note, remember that you have many tools available to help you know what your child is doing online. Parental controls are available on many devices, and you can use this type of software to see which websites your child accesses and for how long. You can even block certain sites to make sure that your young child has an extremely safe experience online.
Your child's online activities will naturally change as they get older. In some cases, you may be able to open up their boundaries and let them explore new websites. In others, you might need to set new limits if your child begins to misuse the privilege of going online. Stay alert, and remember that this is a learning process for your entire family. Making discussions about the internet an ongoing part of your parenting plan is the best way to respond to your child's changing needs.