Now here's an accessory that music lovers everywhere will enjoy. Baby Blanket Music offers a perfect way to share with little ones all the familiar songs of John Mayer, Billy Joel, Elton John, and Simon & Garfunkel. This is a new line of baby music that features top tunes from top music artists, but set to soothing lullaby arrangements.
Here's a peek at what to expect…

Baby Blanket Music makes its debut with a collection of albums featuring unique, soothing lullaby arrangements of favorite songs from an array of well-known stars. Billy Joel, Elton John, John Mayer and Simon & Garfunkel are among the artists whose hit songs and
familiar melodies are featured in the collection.
Created by Josh Rutt, New York-based teacher, composer and performer, Baby Blanket Music was developed under the guidance of a wide range of doctors, teachers and child development specialists. As his closest friends began having children, Rutt carefully observed and participated in their babies' development. He soon discovered that there was room for improvement in the
quality of baby music that was currently available on the market. As a result, Rutt set out to create a distinctive line of music designed to appeal to babies, parents and grandparents alike. As a student of music his whole life with a dynamic career focused on working with children, the development of Baby Blanket Music came naturally.
"I saw that there was a need and an opportunity for new ideas as well as new sounds," said Josh Rutt, founder & CEO of Baby Blanket Music. "Much of the baby music I was finding was very stripped down, difficult for adults to enjoy, and did not seem particularly enriching for young ones. Since then, my goal has been to create music that is soothing and enhancing for babies
while remaining enjoyable for adults."
Designed to soothe baby while enhancing the enjoyment and cognition of music, Baby Blanket Music features familiar baby sounds like vibraphones and music boxes paired with a full medley of richer, more classical instruments including strings, woodwinds, pianos, harps and soft percussion. Together, these instrumental arrangements create gentle textures that are calming and enjoyable to ears of any age.
Among the smash hits found on the albums are Billy Joel's Piano Man and Uptown Girl; Elton John's Tiny Dancer and Your Song; John Mayer's Daughters and Why Georgia and Simon & Garfunkel's Bridge Over Troubled Water and Mrs. Robinson.
Baby Blanket Music is available as of March 2010 at specialty juvenile product retailers in the U.S., select online retailers including iTunes and at http://www.babyblanketmusic.com/> www.BabyBlanketMusic.com. Recommended retail for each of the four CD's in the collection (Baby Billy Joel, Baby Elton John, Baby John Mayer and Baby Simon & Garfunkel) is $14.99. More albums from additional artists will follow with two new releases slated for Summer 2010.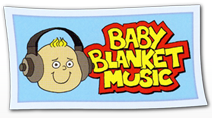 About Baby Blanket Music
Founded by Josh Rutt, New York-based Baby Blanket Music offers a collection of albums featuring soothing lullaby arrangements of popular music from well-known artists. A graduate of Duke University with a major in music, Rutt, a teacher, composer and performer selects popular music and arranges it with care on each Baby Blanket Music album. For more information, visit www.BabyBlanketMusic.com or call 1-260-577-BABY (260/577-2229).