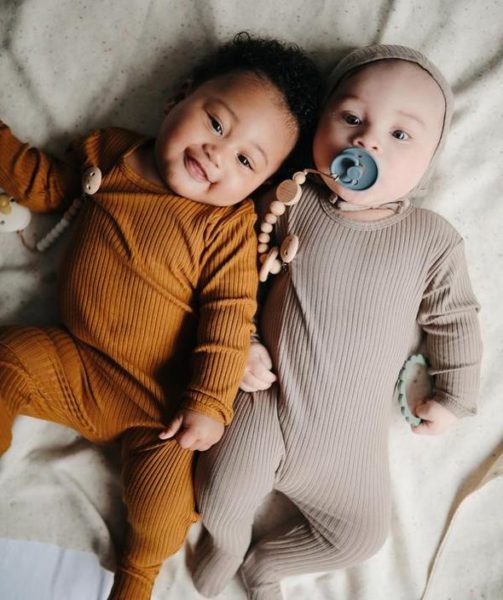 Baby clothes are one of those things that you can't resist buying. You'll notice that people tend to ignore your baby registry and will go out of their way to buy your baby the cutest outfit they can find. Who can blame them? These mini dresses and tiny shoes are hard to turn down. Let's face it, if we as adults can't ever have too many clothes, then the same should apply to baby right? Along with those clothes you'll also need some accessories that are just as important. Let's see if you've got these on your list.
Pacifier clips
Stylish clips such as wooden pacifier clips are a great way to wear a binky and not worry about losing it throughout the day. Not only are these clips fashionable, they're also budget-friendly so you can stock up on plenty since you'll be using these everytime you go out. When shopping for these types of clips, be sure to read the care instructions carefully so that you can sanitize them properly before each use. Once you try these, you'll never leave home without them.
Stylish bibs
Once baby starts teething you'll notice a ton of uncontrollable drool that seems to get everywhere. A cute dress can get soaked and drenched with saliva in a quick second if you don't have a bib on baby. If you have a special occasion to go to, you'll want to be sure you have a nice bib to go along with their fancy attire. If you're feeling silly there are also bibs with funny quotes to make those around her laugh. Bibs are a must-have so rest assured you'll get your money's worth.
Suspenders
For your little mister, a few pairs of fashionable suspenders are a must-have when it comes to baggy or loose bottoms. Because different brands cut their sizing a little different, sometimes your baby's normal size will run a little bigger. If this happens, a pair of suspenders always comes in handy to keep your little one's pants up comfortably.
Hats
If you're an outdoor family, this is obviously a must. However, even if you're not going on weekly hikes, your baby should be protected from sun rays anytime she goes for a walk. For some parents, baby wearing is a better option than a stroller when it comes to walks or other outdoor activities so the baby will need protection from the sun and a simple hat can do just that. During winter your baby will also need a beanie to keep them warm so be sure to add a few to their winter and fall wardrobe.
Mittens
When you first bring baby home from the hospital you'll need to keep in gloves so that he doesn't poke his eye or scratch his face. It takes at least a couple of months to outgrow the mitten wearing phase so be sure to have some at all times. You'll also need mittens if you live in cold climate. Even though baby may not spend much time outdoors in the fall or winter, you'll still want to protect their hands.
Remember that your little one won't be so little for long so when it comes to spending money on accessories for babies you have to think practical.