As a parent, it's easy to feel a little lost with your style. Time can be short, which doesn't leave you with a lot of time to get ready each morning. But as you know, being a parent also affects your finances, so buying clothes and new outfits becomes even more of a luxury than it was before.
But a lack of time and a lack of budget shouldn't hold you back from looking your best and feeling great. Developing your personal style as a parent is important, helping you maintain your own personality and develop confidence.
One of the simplest ways of doing this is to develop a capsule wardrobe. A capsule wardrobe streamlines your closet so that you have a selection of timeless, quality items that will help you look stylish and put together for any occasion. It's a concept that works for women and men, and is ideal for parents who love fashion, but want to keep things simple.
To help you get started with your capsule wardrobe, here are 10 fashion essentials that will help you put together some stylish looks, no matter the occasion.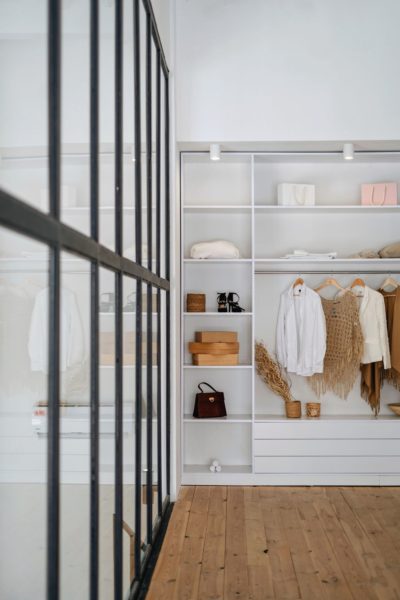 1. High-quality, perfect fit jeans
Jeans are a must-have for your wardrobe. They're ideal for parents on the move, and are even becoming acceptable as workwear in some offices. When a pair of jeans fits you just right, you can feel a million dollars, but it can take some time to find them. Get to know the different types of jeans to help you find a style that works with your shape and don't be afraid to splurge a little on them. Good quality jeans will last a long time, and once you've found a style you like, consider getting them in a couple of colors to help you build your capsule wardrobe.
2. A cotton blouse
If you want a look that's effortless, cool and versatile, then you can't go wrong with a cotton blouse. A button-down shirt can be worn in a lot of different ways, helping you create looks that range from off-duty casual to something a little smarter when you need it. Some women like a blouse that's fitted and tailored, but you also can't go wrong with investing in a men's button down for a cool look.
It's worth spending a little more to ensure you have a quality item that will last. Make sure you take care of the fabric and deal with spills straight away to make sure your blouse retains that clean, crisp look.
3. Tailored suit separates
Never underestimate the power of a well-fitting suit, and this goes for women and men. The right suit can make you feel like you can take over the world!
Having tailored suit separates also gives you a lot of choice when wearing the items separately. A pair of pants with an incredible fit will work well with a cami or a blouse, as well as your favorite sweater. A jacket, meanwhile, is perfect for dressing up a more casual look or helping you feel more put together for work.
Make sure you get your suit fitted so that it's just right for you – it will give you a huge boost to your confidence and make your style look more expensive too.
4. A leather jacket
A leather jacket is one of those items that will always complete an outfit. Designed to last and available in a lot of different styles, you can rely on a leather jacket to always be in fashion.
But like finding the perfect pair of jeans, finding the right leather jacket can also be a difficult choice. The fit can be difficult, especially when you have curves, and for an investment item like this, you want to make sure you're completely happy with what you're buying.
One good tip is to check out leather jackets for men. The fit can be a little more flattering, and will give you a cool look that feels effortless. Better yet, why not buy one for your partner (they make a great gift!) that the both of you love, that you can 'borrow' when you need it?
5. A statement purse
If you're looking for one luxury item to invest in for your wardrobe, it has to be the statement purse. A statement purse should be something you can wear with anything, that shows a little of your personal taste and also functions as you need it to. There's no point spending a lot of money on a bag that you can't keep your essentials in!
A luxury purse comes with a luxury price tag, and for that reason, you'll want to make sure you find the perfect style for you. Choosing your first luxury handbag should take time, and you should carefully research before you buy. As an extra tip, consider getting a black bag – they'll go with everything, and you won't have to worry about staining the fabric.
6. A neutral knit
In the winter months, comfortable and flattering knitwear is a must. Having a stylish sweater in a neutral color will help you create a chic and stylish look that's never dated. It's important that you choose a knit made from a high-quality fabric like cashmere or wool, as synthetic knits rarely last longer than a season.
If you take good care of your knitwear, it will stay in your closet season after season. Pay close attention to the care label, and use a wool comb to keep your sweater looking as good as new.
7. A little black dress
A little black dress ins another classic item you have to have in your wardrobe. When you have a dress that you can wear anywhere and feel incredible whenever you put it on, it's one to hold onto.
The evolution of the little black dress is fascinating, and there are so many incredible looks from over the years that can serve as your own inspiration. Stick to a style that's simple and classic that you know you can dress up or down depending on the occasion. With the right little black dress, you will never have to worry about finding something to wear!
8. Simple cotton t-shirts
Cotton t-shirts are a wardrobe basic, but often it can be hard to find the balance between price and quality. Finding the right fit can also be a challenge, so it can feel like you're in an endless search for the perfect white t-shirt.
While you don't want to spend too much on these types of staples, it's worth shopping around for a high-quality item. Once you've found your perfect match, get the same style in different colors to ensure you've got a tee for every occasion.
9. A smart coat
A coat is a necessity to keep you warm, but it can also be a very stylish addition to your wardrobe. If you check out different fashion bloggers and influencers, you'll soon notice that they know how to use a coat to complete a look.
A smart coat can instantly dress up your outfit. Perfect for running errands or for a day at work, you'll feel more put together when you wear a high-quality coat. Check out the different types of winter coats that are out there to help you find your ideal match.
10. Leather boots you can wear all day
Last, but not least, think about your footwear. A pair of stylish leather boots will complement a lot of outfits, and if you take good care of them, can be a lasting investment for your wardrobe. Whether you choose to have some short ankle boots or you prefer a knee-length (or both), choose a style and color that won't date. You'll also want to feel comfortable wearing them so that they can get you through the day.
If you shop smart for your leather boots, you can get them at a great price. Browse the sales to help you find your perfect pair for less.
While a capsule wardrobe sounds complicated, it could be the best decision you'll ever make. Start investing in your wardrobe essentials and get ready to embrace your personal style, with a look that's right for every occasion.